.
I currently have bulks of postcards on hand of this image among various others that I can sell cheaper to customers within the Greater Toronto Area. Learn more here
.
The smell of the rose
Tickled my nose,
Leaving a mark
Inside my little heart.
Now wherever I go,
The memories follow;
Sweet as a rose,
Tingling my soul.
594 views as of February 24, 2013
(This was formerly titled "Inside its little heart" but I have decided to change it as I revised the poem on February 6, 2013.)
I've always adored cuddly little kittens and their heart shaped pink noses. The heart will always remember the sweetest memories, just as an animal's keen nose will always remember the sweetest scents. When sweet memories come with sweet fragrances, the heart on in the body will remember the feeling just as well as the heart on the face will remember the smell.
Pencil and Pencil crayons on acid-free recycled paper from my sketchbook. It has been a LONG while since I've drawn a cat; this is the first I've done in years!
See the work in progress here.
Great for Valentine's Day, birthdays and more.
Several of my products at Zazzle , including cards and bookmarks, feature this image with the poem, and they can be customized as desired. To see all products with this image, go here.
.
.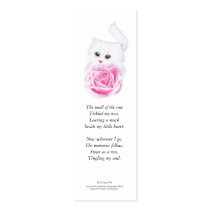 .
Featured in:
Cats and Dogs
Pastels & Whites
ImageWriting
Realist Traditional Art
For the Love of Cats
NEW CREATIONS OF BEAUTIFUL ART AND PHOTOGRAPHY
Artists Universe
LOVE THESE CREATURES
.
VISIT MY WEBSITE:
Mui-Ling Teh – Art and Words from the Heart


.
FOLLOW ME ON:
.
Copyright notice:
© Mui-Ling Teh. All rights reserved.
MY IMAGES MAY NOT BE USED OR PUBLISHED ANYWHERE ELSE WITHOUT MY PERMISSION.
My art and writing do not belong to the public domain. Materials may not be reproduced, uploaded, stored in a retrieval system or transmitted, copied, edited or published in any form or by any means without my permission. Any site using my images against my conditions have not sought proper permission and should be reported or brought to my attention immediately.
.