It looked at itself below the heaven once its home,
Before darkness crept and stole its freedom to roam.
Behind the bars it bathes in elegant grace,
But it is a prisoner with a cuff on its leg.
Self-portrait as an angel; and a swan.
This idea was born as I was working on Like a White Cloud, which is a different photo of the same swan. I took several photos of this swan at Hampton Court Palace. On one hand I felt the swan swimming in a reflected sky was heavenly. On the other hand, a swan in mythology and drama often had a sad association to it – and the idea of a captive creature was inspired by the tag on the swan's leg, as well as the reflected gate that looked like prison bars coming down. Rest assured however that the real swan was NOT behind bars; it could even get close to the edge of the ground.
You can see the original swan photo here
I first edited to give it a "heavenly look" – in the beginning the creature is peacefully bathing in its heavenly home: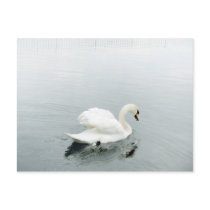 Then darkness begins to loom; the final moment before darkness steals the swan's freedom and joy.
I brought out the reflected gate (the cage) and the dark water ripples surrounding the swan:
The pose in the photo, as though it was going to plunge itself into the water, made me think of the ending scene in the ballet 'Swan Lake' as the swan princess Odette drowned herself to death; as well as the "swan song" – a phrase based on the myth that a swan is silent throughout it's whole life until just before its death when it sings one beautiful song. Several poems and verses have been written based on this myth, including the Orlando Gibbons madrigal "The Silver Swan":
The silver Swan, who living had no Note,
when Death approached, unlocked her silent throat.
Leaning her breast against the reedy shore,
thus sang her first and last, and sang no more:
"Farewell, all joys! O Death, come close mine eyes!
"More Geese than Swans now live, more Fools than Wise."
And finally the heavenly creature's joy is captured – needless to say the incorporation of a white swan and a sad female figure was inspired by Swan Lake. The wings on my back are swan wings while the cuff on my ankle is a bracelet which I've inserted a white string into.
Although in reality, one doesn't need to be tied down to be a prisoner… And as the swan looks at it's own reflection; I've been having a reflective year this year.
All images and textures used are my own, which I have brought together in Photoshop. Images were taken with an Olympus FE-340.
This final image is cropped; You can see the full version here when you go to 'Customize it' and resize the image.
.
582 views as of Dec 3, 2012
Feature in:
THIS & THAT
Moody & Evocative
ImageWriting
My Model Mania
Pastels and Whites
Inspired by life
Inside the Self-Portrait
Self Taught Photographers
Feminine Intent
Toronto Group
Anxiety
The Emotional Connection to Photography
Gaia
.
VISIT MY WEBSITE:
Mui-Ling Teh – Art and Words from the Heart


.
FOLLOW ME ON:
.
Copyright notice:
© Mui-Ling Teh. All rights reserved.
MY IMAGES MAY NOT BE USED OR PUBLISHED ANYWHERE ELSE WITHOUT MY PERMISSION.
My art and writing do not belong to the public domain. Materials may not be reproduced, uploaded, stored in a retrieval system or transmitted, copied, edited or published in any form or by any means without my permission. Any site using my images against my conditions have not sought proper permission and should be reported or brought to my attention immediately.
.