.
I currently have bulks of postcards on hand of this image among various others that I can sell cheaper to customers within the Greater Toronto Area. Learn more here
.
Swimming in a reflection of the world up high;
Fluttering like a white cloud in the sky.
568 views as of Nov 18, 2012
This was taken back in 2009 while I was on my internship in the UK. I still have many more photos from that time I have never shared. Lately, as I've been looking back at my old memories, I often stopped at this image – something about it struck me despite how simple and ordinary it was.
I enhanced this image in a way to reflect how it makes me feel – more heavenly – while keeping it natural.
You can see thee original image here
This white mute swan was taken at Hampton Court Palace (Surrey, UK) on April 13, 2009 with an Olympus FE-340 – the same place I took The Greatest Treasure – so named because while the palace was extravagant; richly adorned with paintings, frescoes, moldings, statues, tapestries, and more (deer antlers, guns, weapons etc.), I enjoyed the garden the most and believed that even more than the wealth of a king, the greatest treasures all come from nature. The swan was swimming in this waterway reflecting the sky; and as that water's surface was almost level with the grass, I could get pretty close to it.
Available as cards, prints, clothing, cases and more.
.
Here is another photo of this beautiful bird: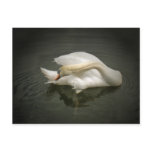 I'll probably be adding more of this fellow on Zazzle overtime.
Featured in:
Pastels and Whites
All Things Poetic, Artistic, Philosophical
The Group
From the Heart
Miniatures and Mammoths
Naturally BLACK OR WHITE
Challenge Cafe
.
VISIT MY WEBSITE:
Mui-Ling Teh – Art and Words from the Heart


.
FOLLOW ME ON:
.
Copyright notice:
© Mui-Ling Teh. All rights reserved.
MY IMAGES MAY NOT BE USED OR PUBLISHED ANYWHERE ELSE WITHOUT MY PERMISSION.
My art and writing do not belong to the public domain. Materials may not be reproduced, uploaded, stored in a retrieval system or transmitted, copied, edited or published in any form or by any means without my permission. Any site using my images against my conditions have not sought proper permission and should be reported or brought to my attention immediately.
.