Burning my brain cells to meet the deadline;
Thick jail bars between windows keep my confined.
While trapped inside the cell of my mind
I almost forgot how beautiful it was outside.
.
This is an old photo of mine from my days as an architecture student. Taken on June 20, 2009 at around 6am – was working all night in the studio all alone. During late nights working away I burn my brain 'cells'. Sometimes the walls between the windows look like jail bars, but even so the sunlight pouring into the space was beautiful; and the lack of human presence made the morning even more beautiful. There were also sometimes raccoons on the roof next door peeping into to space :P
The poem I came up with recently; one morning, as I woke up I saw a yellow edge around my door and thought I forgot to turn the lights out the night before… Turned out to be the sunshine… I almost forgot how beautiful it was…
Taken as is, straight from the camera, with an Olympus FE-340
.
Here is another photo of my cell: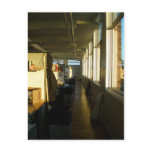 .
And speaking of cell; I've also made a case for those famous apple 'cell' phones! Meanwhile today, Oct 23, is iPod day! Not that I expect to really 'cell' these…
.
.
Postcards and cards with text are also available at Zazzle.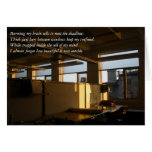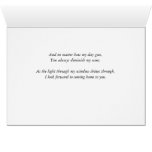 These are great for sending thoughts to your loved ones who are far away from you; whether you are studying in another city, spending a late night at work, or away on a business trip. You may use the text provided, delete them, or replace them with your own. You can also reposition or re-size them when you click on 'Customize it'; upon which you can add addition text and graphics.
And no matter how my day goes,
You always diminish my woes.
As the light through my window shines through,
I look forward to coming home to you.
.
239 views as of Nov 3, 2012
.
VISIT MY WEBSITE:
Mui-Ling Teh – Art and Words from the Heart


.
FOLLOW ME ON:
.
Copyright notice:
© Mui-Ling Teh. All rights reserved.
MY IMAGES MAY NOT BE USED OR PUBLISHED ANYWHERE ELSE WITHOUT MY PERMISSION.
My art and writing do not belong to the public domain. Materials may not be reproduced, uploaded, stored in a retrieval system or transmitted, copied, edited or published in any form or by any means without my permission. Any site using my images against my conditions have not sought proper permission and should be reported or brought to my attention immediately.
.