While wearing a coat of heavenly white
The colour of blood is told through the eyes
In recognition of the sacrificed Christ
And for the renewal of life, the eggs are dyed
Done this morning (March 24, 2008). Basically my monochromatic hue series are drawings done with a light colored crayon, then washed with darker colored water paint; and like every other in the series, this was on a paper in my sketchbook. This one was the most difficult to do since I used a white crayon and hence had a harder time seeing what I was drawing; as a result the face is kind of twisted. I had to move the picture, or my lamp, around in order to see the drawing clearly enough; at one point I even started drawing upside down.
Normally with a white subject I may have chosen to wash with black or grey, but since white rabbit eyes are red; and meanwhile it is also easter monday, I chose this red wash.
Happy Easter!
1354 views as of April 2, 2011
This work has been featured on the homepage, and in:
Alphabet Soup
Also available at Zazzle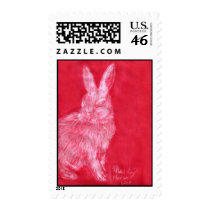 .
VISIT MY WEBSITE:
Mui-Ling Teh – Art and Words from the Heart


.
FOLLOW ME ON:
.
Copyright notice:
© Mui-Ling Teh. All rights reserved.
MY IMAGES MAY NOT BE USED OR PUBLISHED ANYWHERE ELSE WITHOUT MY PERMISSION.
My art and writing do not belong to the public domain. Materials may not be reproduced, uploaded, stored in a retrieval system or transmitted, copied, edited or published in any form or by any means without my permission. Any site using my images against my conditions have not sought proper permission and should be reported or brought to my attention immediately.
.