Hello all :)
I know I haven't really been here for a long long time (I'm guessing those who've started watching me more recently were expected to see something more artsy…).
I'm just going back to an old photo of mine, from the time I was studying in Rome (yes there are many many more). Photo taken as is (more or less just point and shot on auto), on September 25 2008 with and Olympus FE-220.This photo was from our field trip to Southern Italy; our first stop was Cumae, where we saw the Cave of Sibyl along with the ancient Temple of Jupiter (5th century. B.C.) shown here – a big massive rock with remains of the building above.
During the Italy exchange I did many sketches, and have been planning to upload a few in the next few days – get myself on the artsy side of things again. Here is one I did of a remain of the Temple to Jupiter (above the rock tunnel shown here.) Hope everyone enjoys!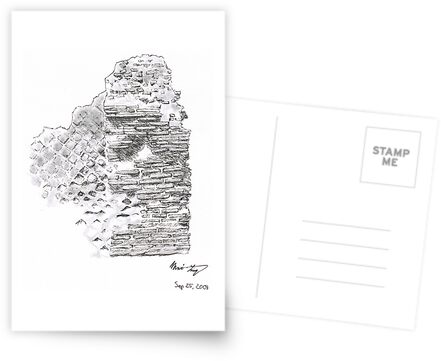 Was a fascinating experience being in touch with history.
Just before the trip we were very busy with deadlines, and it was nice to get away to the south where we were expecting beautiful days of the southern climate. Can read more about my trip here and here
featured in:
Scenery
Artists Universe
.
VISIT MY WEBSITE:
Mui-Ling Teh – Art and Words from the Heart


.
FOLLOW ME ON:
.
Copyright notice:
© Mui-Ling Teh. All rights reserved.
MY IMAGES MAY NOT BE USED OR PUBLISHED ANYWHERE ELSE WITHOUT MY PERMISSION.
My art and writing do not belong to the public domain. Materials may not be reproduced, uploaded, stored in a retrieval system or transmitted, copied, edited or published in any form or by any means without my permission. Any site using my images against my conditions have not sought proper permission and should be reported or brought to my attention immediately.
.