.
I currently have a large mounted print of "Sunset with Blue Trees" and "Red String of Fate" on hand available for sale in the Greater Toronto Area. See details here
.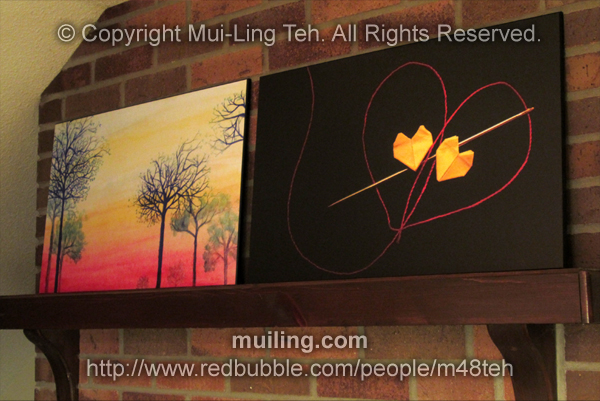 .
Earth and water grow trees below the world up high;
As the day's end combines air and fire in the sky.
Colour plays a fundamental role in "Sunset with Blue Trees" as the yellow and orange tones in the sky offers warmth. Complimentary to that, the cool blue trees offer a calm relaxing sensation, as it creates a setting like an oasis in a desert. Therefore, this image makes a nice addition to a room in any season; the sky can make the viewer feel warm even during the cold winter, and during the hot summer the blue trees lets the mind escape to a cool relaxing oasis.
I was inspired by the Japanese artist Hiroshi Senju. Senju limits his colours in his paintings; sometimes painting an image where the background is the complimentary colour of the subject. His style is simple but at the same time intense, where the foreground stands out from the complimentary background.
Completed in 2004. This watercolor painting was done in my sketchbook. The paper isn't watercolor paper, but at least more durable than regular printing paper.
This work has been featured in:
Bubbler's Weekly Challenge
Art at Heart
Put Out! or Get Out!!!
Superbly Visual
Fiery Hot Colors
! 100% !
ART for SALE
views: 22617 as if February 26, 2014+
favs: 50+
Thank you Janis Zroback for being my first buyer!

.
VISIT MY WEBSITE:
Mui-Ling Teh – Art and Words from the Heart


.
FOLLOW ME ON:
.
Copyright notice:
© Mui-Ling Teh. All rights reserved.
MY IMAGES MAY NOT BE USED OR PUBLISHED ANYWHERE ELSE WITHOUT MY PERMISSION.
My art and writing do not belong to the public domain. Materials may not be reproduced, uploaded, stored in a retrieval system or transmitted, copied, edited or published in any form or by any means without my permission. Any site using my images against my conditions have not sought proper permission and should be reported or brought to my attention immediately.
.