On this day the warm light shall comfort your soul;
Let wishes take flight upon each candle you blow.
500 views as of September 29 2011
Self-Portrait with miniature golden origami paper cranes on candle sticks.
Composition wise this wasn't a very easy photo to take; or at least I wasn't sure what was the best. I actually took this along with several other versions a few months ago but could never get my head around to which I was most satisfied with. Earlier I preferred a version where the candles were not as exposed, but today started thinking that it is nicer for them to be brighter; I could always change my mind again in the future :P
I purposely folded the cranes a bit bigger in order to work with the concept; each folded from 15×15mm pieces of golden paper. I taped a wire to the top of each of the candles, then slid the wire into a hole at the bottom of each crane:
The paper crane symbolizes peace, and according to an ancient Japanese legend, folding 1000 origami cranes makes a person's wish come true. We also tend to make wishes when blowing out birthday candles. Origami cranes and birthday candles both having that element of wishing in common was my inspiration behind this image – so with each year, there is another crane…
.
Make a wish…
.
Taken with an Olympus Fe-340.
.


.
Thank you to all who have helped raise funds for Japan earthquake tsunami relief efforts
.
Featured in:
Fold With Love-1000 Paper Cranes
Olympus and Four Thirds Group
Superbly Visual
Lips
The Best of RedBubble
Inspired Art
The Compact Group
ImageWriting
The Birthday Group
The Emotional Connection to Photography
.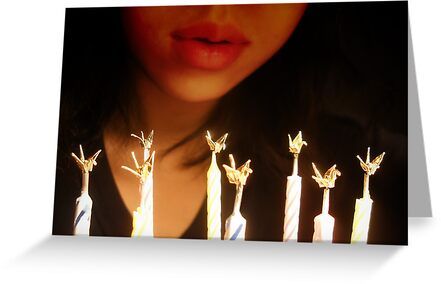 .
VISIT MY WEBSITE:
Mui-Ling Teh – Art and Words from the Heart


.
FOLLOW ME ON:
.
Copyright notice:
© Mui-Ling Teh. All rights reserved.
MY IMAGES MAY NOT BE USED OR PUBLISHED ANYWHERE ELSE WITHOUT MY PERMISSION.
My art and writing do not belong to the public domain. Materials may not be reproduced, uploaded, stored in a retrieval system or transmitted, copied, edited or published in any form or by any means without my permission. Any site using my images against my conditions have not sought proper permission and should be reported or brought to my attention immediately.
.