Thank you to everyone who has helped raise funds for Japan earthquake tsunami relief efforts
As some may remember from this journal I have begun donating proceeds from sales of my works to Japan earthquake relief funds. I have also included information in that journal on ways we can help Japan directly. Several updates have occurred since:
Zazzle's japan relief store has now closed; it has raised over $10,000. Japan still needs help however, and I am going to continue contributing my earnings to Japan relief. All items that I donated to Zazzle's Japan relief store, are now back in my own store, and sales I make there and on RB for any item, I will be donating towards Japan relief funds.
As stated in my journal, I don't really have a set figure of how much of my sales I am donating; I had planned to donate out of my own pockets in the meantime, and I estimated that would be about 50% of my earnings. So far I have made a donation to the Japan Earthquake Relief Fund organized by the Japanese Canadian Cultural Centre donating an amount greater than the earnings I've made since the time I posted the journal (as stated in my journal, I only get about 20-40% of the sales I make while the rest of the money goes to RedBubble or Zazzle). I am however expecting payment from both Redbubble and Zazzle during the next payment periods; and while most of the sales are from prior to the earthquake, I am planning to donate about 50% of those payments on top of the donation I have made.
This t-shirt was one I designed for the onigiri sale I spoke of weeks ago. The event was inspired by two Japanese exchange students who had success raising funds by selling rice balls earlier in March 2011. For those who can read Japanese, you can check out their blog here
The group of Japanese mothers who organized the latest onigiri sale event also had thoughts about selling the t-shirts to raise funds, but they were not very sure where to begin; and with other events to organize, they haven't really had the time to commit to it. So for the time being I'm selling the design here on Redbubble, and will be donating 100% of the sales made on this shirt to Japan relief funds. Although I may not expect it to be much, even with a few sales, if they are going to be worn, at the least it would help spread the word…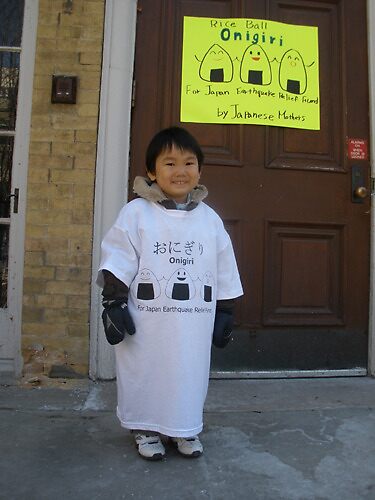 "Onigiri (お握り or 御握り; おにぎり), also known as omusubi (お結び; おむすび) or rice ball, is a Japanese food made from white rice formed into triangular or oval shapes and often wrapped in nori (seaweed). Traditionally, an onigiri is filled with pickled ume (umeboshi), salted salmon, katsuobushi, kombu, tarako, or any other salty or sour ingredient as a natural preservative."
Source: Wikipedia
Featured in:
Live, Love, Dream
Live and Let Live
A Little Bit of Everything
The Group

.
VISIT MY WEBSITE:
Mui-Ling Teh – Art and Words from the Heart


.
FOLLOW ME ON:
.
Copyright notice:
© Mui-Ling Teh. All rights reserved.
MY IMAGES MAY NOT BE USED OR PUBLISHED ANYWHERE ELSE WITHOUT MY PERMISSION.
My art and writing do not belong to the public domain. Materials may not be reproduced, uploaded, stored in a retrieval system or transmitted, copied, edited or published in any form or by any means without my permission. Any site using my images against my conditions have not sought proper permission and should be reported or brought to my attention immediately.
.