.
I currently have a canvas print of "Wish" on hand available for sale in the Greater Toronto Area. See details here
.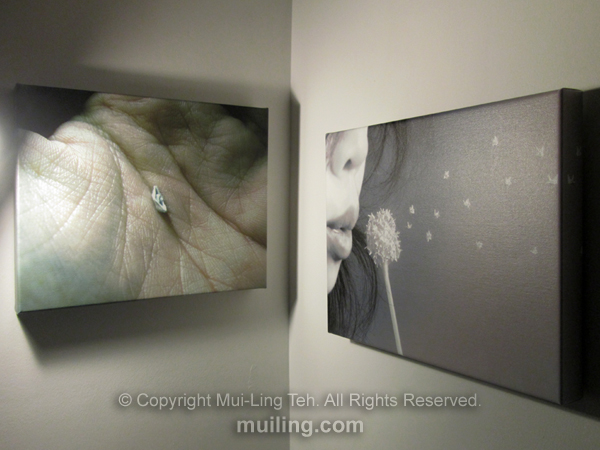 .
May every seed fly its way to you,
Upon its wings may every wish come true.
Self-portrait taken with an Olympus FE-340
The paper crane dandelion is a straw with a bunch of miniature origami cranes at the end
The background is my computer screen and the paper crane 'seeds' are taped to the surface. I somewhat managed to make my hair look like it is being blown thanks to the static electricity from the screen, further contributed by the dry air of the cold season.
The paper crane symbolizes peace, and according to an ancient Japanese legend, folding 1000 origami cranes makes a person's wish come true. We also tend to make wishes when blowing a dandelion. Origami cranes and dandelions both having that element of wishing in common was my inspiration behind this image.
I know I haven't been very active here lately, and this is the only work I've done this year; which makes it my first. I have been having a really awful 2010, constantly running into misfortune. I had a string of bad luck at the start of the year which led to a tragedy where I lost a collection of my miniature origami during one crazy day. Then I got misrepresented by the media that led to other mishaps. It does not end there; bad things have been constantly happening, some are minor, some are worse; new misfortunes have been arising while I'm still dealing the burden of old ones… I didn't have a good birthday this year either.
I wish for it to end; at the least I wish to resolve the one thing that has been lingering for a long time. I wish for it to be over with soon. Until then I pray, and hope that at least a few others will pray for me too.
.

Thank you to all who have helped raise funds for Japan earthquake tsunami relief efforts
I am also grateful for everyone who prayed for me and kept me in their thoughts during my difficult time in 2010. I did have a few good things happen to me instantly upon posting this image, as well heard back some good news the next day. Bit by bit I also eventually got back my desire to create again. Now the problem is the lack of time!
.
Featured in:
Fold With Love – 1000 Paper Cranes
Live, Love, Dream
Let There Be Light
The Compact Group
The Top Favorite Group
Sharing & Caring
Point and Shooters
B&W Photography 4 you
Inspired Art
Artrageous RB Artists
Tell Your Photo Story
Photographers Self Portrait
The Group
From the Heart
THIS & THAT
10+ Features
Black and White Enthusiasts
No More Color
Freedom in Words and Art
The Birds
HIGH QUALITY IMAGES
Best of Red Bubble
The Challenge Corner
Bubbler's Weekly Challenge
Art 4 Japan
Color Me a Rainbow
OUTSIDE THE BOX
The Group
A Different Perspective
The Scavenger Hunt
Alphabet Soup
Weekly Theme Challenges
Props to Props
Friends of Redbubble
5000+ Views
Today I am thankful for
Anxiety
My Model Mania
The Emotional Connection to Photography
VAVoom! Vibration in Art and Verse
Winner of:
Your favorite B&W, Sepia or Muted work with 10+ features – January
New Avatar for the New Year
Group Avatar
views: 5000+
favs: 100+
Thank you very much.
.
VISIT MY WEBSITE:
Mui-Ling Teh – Art and Words from the Heart


.
FOLLOW ME ON:
.
Copyright notice:
© Mui-Ling Teh. All rights reserved.
MY IMAGES MAY NOT BE USED OR PUBLISHED ANYWHERE ELSE WITHOUT MY PERMISSION.
My art and writing do not belong to the public domain. Materials may not be reproduced, uploaded, stored in a retrieval system or transmitted, copied, edited or published in any form or by any means without my permission. Any site using my images against my conditions have not sought proper permission and should be reported or brought to my attention immediately.
.