Taken Nov. 4, 2009 with an Olympus FE-340
In honour of the 11th day of the 11th month; the day that recalls the end of World War I, I fold 11 poppies from 15×15mm pieces of paper. The cross is also made from paper.
Remembrance Day – also know as Poppy Day, Armistice Day or Veterans Day – is a day to commemorate the sacrifice of members of the armed forces and of civilians in times of war, specifically since the First World War. It is observed on 11 November to recall the end of World War I on that date in 1918.
Source: Wikipedia
The poppy's significance to Remembrance Day is a result of Canadian military physician John McCrae's poem "In Flanders Fields". This poem has also been adapted as a song:
.
In Flanders fields the poppies blow
Between the crosses, row on row
That mark our place; and in the sky
The larks, still bravely singing, fly
Scarce heard 'mid the guns below.
We are the Dead. Short days ago
We lived, felt dawn, saw sunset glow
Loved and were loved, and now we lie
In Flanders fields.
Take up our quarrel with the foe
To you from failing hands we throw
The torch; be yours to hold it high.
If ye break faith with us who die
We shall not sleep
Though poppies grow
In Flanders fields.
.
I have also now written my own poem:
Could a smile be remembered, after joy is gone?
.
For a better idea of scale :

.
Views: 900+
Favs: 20+
This work has been featured in:
Beautiful
Holidays and Special Occasions
Alphabet Soup
Around The World
The Compact Group
Most Favourites
ImageWriting
The Power of Photography
ART AND PHOTOGRAPHY SHOWCASE
The Emotional Connection to Photography
.

Thank you to all who have helped me raise funds for Japan earthquake tsunami relief efforts
Also available on various products at my Zazzle store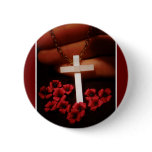 On January 7 2010 I lost a collection of my miniature origami works. I made a calendar in tribute of my works lost using this image as my cover.
In memory of my works lost… on January 7, 2010
.
VISIT MY WEBSITE:
Mui-Ling Teh – Art and Words from the Heart


.
FOLLOW ME ON:
.
Copyright notice:
© Mui-Ling Teh. All rights reserved.
MY IMAGES MAY NOT BE USED OR PUBLISHED ANYWHERE ELSE WITHOUT MY PERMISSION.
My art and writing do not belong to the public domain. Materials may not be reproduced, uploaded, stored in a retrieval system or transmitted, copied, edited or published in any form or by any means without my permission. Any site using my images against my conditions have not sought proper permission and should be reported or brought to my attention immediately.
.