FEATURED IN ABSTRACT ART
Turn around and dream of the unseen,
And follow this frozen spiral of your soul,
Ancient be this mark of potential power,
For here water is the path of migration,
Nature's cosmic expansion of energy,
Here lies her seal of a story told!
DRUIDSTORM Malcolm.E.Wheeldon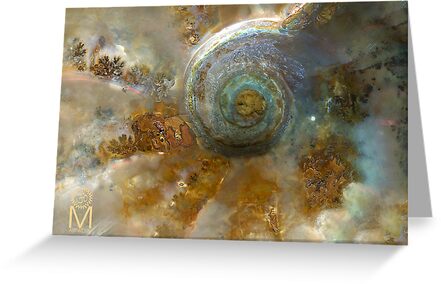 A STUDY OF FOSSILS
Fibonacci numbers and Phi are related to spiral growth
If you sum the squares of any series of Fibonacci numbers, they will equal the last Fibonacci number used in the series times the next Fibonacci number. This property results in the Fibonacci spiral seen in everything from sea shells to galaxies:
12 + 12 + 22 + 32 + 52 = 5×8
so
12 + 12 + . . . + F(n)2 = F(n) x F(n+1)
The Spiral
In some systems of healing the spiral movement is used in an anti-clockwise direction for clearing energy like pain and then a clockwise spiral movement for giving energy. Opening and closing:)
It is interesting that ELECTRON – yin energy spins to the left in a spiral movement and PROTON + yang energy swings to the right in a spiral movement. Visually this symbol seems to open and allow us to travel and spinning the other way helps us towards closures.
Symbolizes the continuity of life and spiritual growth. Ancient symbol of the goddess, the womb, fertility, feminine serpent force, continual change, It is the constant flow of nature's processes moving outward then back inward as Heaven and Earth are joined. It is also about how death is a rebirth, whether of a human life, the seasons of the year, the astrological skies or anything in the natural or supernatural world It is believed to represent the travel from the inner life to the outer soul or higher spirit forms; the concept of growth, expansion, and cosmic energy, depending on the culture in which it is used.
To the ancient inhabitants of Ireland, the spiral was used to represent their sun.
The whorls are continuous creation and dissolution of the world; the passages between the spirals symbolized the divisions between life, death, and rebirth. Another idea states that the loosely wound anti-clockwise spiral represent the large summer sun and the tightly wound, clockwise spiral their shrinking winter sun.