Every year the Butchart Gardens in Victoria, Vancouver Island,British Columbia, Canada, put up a display of hundreds of thousands of lights during the Christmas Season. They make a magical wonderland of the 55 acres of theme parks and gardens.
This is a view of the Rose Garden. The circle of lights outlines the area where over 250 varieties of roses bloom every year. In the centre is a huge lighted motif of a rose. Farther back are the lights of various pathways entering the area from other parts of the gardens, and in the background, floodlit trees provide beautiful soft
colours.
The gardens are a National Historic Site of Canada and have been blooming since 1904.
Taken with a Fuji S100FS camera, 4 second exposure, F3.1, ISO 200, and a tripod.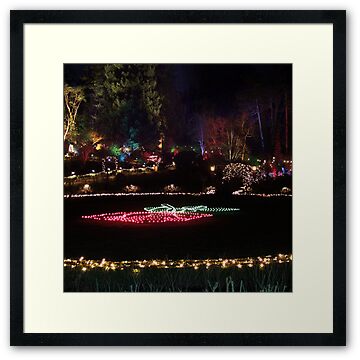 Featured in Canadiana