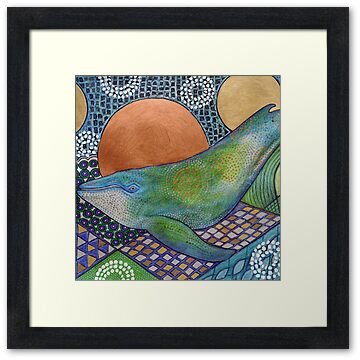 Original artwork is for sale. Please email redeye@designbyredeye.com with inquiries. View more of my artwork online at www.lynnetteshelley.com
25 × 19 inches, mixed media on Canson paper. Media includes watercolor pencil, liquid silver leaf, liquid copper leaf, gold paint, acrylics, oil pastels, colored pencils, metallic gel pen, and marker.
This is a stylized, art nouveau depiction of a humpback whale.
According to the AMERICAN CETACEAN SOCIETY : Because their feeding, mating, and calving grounds are close to shore and because they are slow swimmers, the humpback whales were an easy target for early whalers. The International Whaling Commission (IWC) gave them worldwide protection status in 1966, but there were large illegal kills by the Soviets until the 1970's. It is believed they number about 30,000-40,000 at present, or about 30-35% of the original population.
Another interesting fact from the AMERICAN CETACEAN SOCIETY
cientists have discovered that humpback whales sing long, complex "songs". Whales in the North American Atlantic population sing the same song, and all the whales in the North American Pacific population sing the same song. However, the songs of each of these populations and of those in other areas of the world are uniquely different. A typical song lasts from 10-20 minutes, is repeated continuously for hours at a time, and changes gradually from year to year. Singing whales are males, and the songs may be a part of mating behavior.
To view WIPs of this artwork, please check out my journal entry here.