My First Museum Show Plus Other Big News
Hi all
I'm sorry I have not posted in here in a while. I have a bunch of works that I need to upload to here this week but life has been very busy as of late.
First of all, I am very excited and honored to announce that my artwork The Dogs of War will be at the "Art of the State" annual juried show this summer at the State Museum of Pennsylvania, Harrisburg, PA. There were 137 artworks chosen for the show out of 1,934 entries.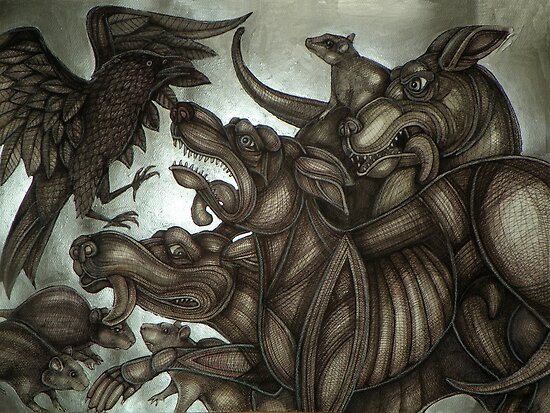 (me with "The Dogs of War" at the Abington Art Center in Jenkintown PA's juried show, December 2012.)
ART OF THE STATE
Opening Reception
Saturday, June 22
7:00 pm – 9:00 pm
Exhibition Dates
Sunday, June 23 – Sunday, September 8
The State Museum of Pennsylvania
300 North Street, Harrisburg, PA 17120-0024
(next to the State Capitol Building)
http://www.statemuseumpa.org/
MORE UPCOMING SHOWS
Go to http://lynnetteshelley.com/exhibitions.html for full event information.
April 6 – May 18, 2013
Petroleum Paradox group exhibition, Narrows Center for the Arts, 16 Anawan Street, Fall River, MA;
April 7 – May 31 2013
Solo Art Exhibition at The High Point Cafe, 602 W. Carpenter Lane, Philadelphia, PA
April 13-28, 2013
"Drawn from Nature" Juried group show, John James Audubon Center at Mill Grove, Audubon, PA.
April 26 – May 12, 2013
Historic Yellow Springs Art Show, at The Lincoln Building, Village of Yellow Springs, Chester Springs, PA; 610-827-7414
April 27th, 2013
Benefit Art Raffle at the 15th annual Greyhounds in Gettysburg, Allstar Expo Center, Gettysburg, PA. A 16 × 20″ framed print of Lynnette's work "The Escape" will be part of the Auction, with proceeds benefiting greyhound adoption groups. Hosted by Nittany Greyhounds.
May 16-July 11, 2013
Solo Art Exhibition at "Art in the Storefront" Gallery, 41 E. Butler Avenue Ambler, PA 19002. Opening reception is May 17, 5:30 to 7 PM.
May 18-19, 2013
Chester County Studio Tour, Malvern, PA. Hours: Sat: 10 AM – 6 PM; Sun: 11 AM – 5 PM. Lynnette will be one of several guest artists at Host Artist Monique Kendikian Sarkessian's studio in Malvern, PA. Click here for Details / Directions. Click here for Tour Map.
June 8, 2013
Summer Arts Festival on Main Street, Mullica Hill, NJ. Lynnette will be vending outside with other artists from Mullica Hill Art Center in the quad next to the gallery at 50 S. Main Street. 9 AM to 4 PM.
June 15, 2013
Ambler Arts Festival, Butler Ave., Ambler, PA. 11 AM – 7 PM.
June 22-23, 2013
Manayunk Arts Festival, (Festival is along Main Street from Carson to Shurs Lane), Manayunk, PA. Hours: Sat: 11-7 PM, Sun: 11-6 PM. Lynnette's work will be located in the emerging artist tent with the Manayunk Roxborough Art Center.
June 23 – September 8, 2013
Art of the State (juried), State Museum of Pennsylvania, 300 North Street, Harrisburg, PA. This is a prestigious annual juried museum show featuring artworks by Pennsylvania-based artists. Lynnette's artwork "The Dogs of War" will be on display. Art Reception and Awards Ceremony is June 22 at 7 PM.
NEW ALBUM
SECONDLY, my band, The Red Masque (pictured above at a recent show), is releasing a new album through Portland label, Beta-lactam Ring Records on May 1, 2013
There will be two editions of the album:
"Art Edition"
Available May 1, 2013 in a custom made gatefold case and 8 panel poster. Edition of 50 numbered and signed copies with each having an original painting by band vocalist Lynnette Shelley.
Stream album or pre-order: http://www.blrrecords.com/prod/2258/mythalogue_...
"Regular Edition"
Available May 1, 2013 in a custom made gatefold case and 8 panel poster. First ed. of 400 copies.
Stream album or pre-order: http://www.blrrecords.com/prod/2257/mythalogue....
Review:
With the first studio outing in five years from Philly's native avant prog wunderkind, The Red Masque let loose a clarion call of avant prog gravitas to all comers here. Scions to a subterranean continuum of stormy entanglements, the tendrils that entwine on these tenebrous tunes snake out from some very auspicious pods. On Mythalogue, they take a page from Red-era King Crimson and another from those that rode the more riff-centric faultlines of the 90's avant prog revival (Present, Happy Family, Thinking Plague, Sleepytime Gorilla Museum) and fire the shredded results out of confetti cannons. Riffs crunch out fevered labyrinths, time signatures create airborne origami and vocalist Lynnette Shelley's supple, full-throated attack seals it with a kiss. This crew have been hoisted on the shoulders of some of Rock In Oppostion's most formidable figures, from their previous studio affair gaining release on Chris Cutler's ReR USA imprint to Mythalogue being mixed by 5uu's/Science Group member and avant prog magi Bob Drake. Little wonder, as the interzone of turbulent energies and high wire conniptions on hand here make plain The Red Masque's heir apparent status to this trajectory.
For more information on our new album, Mythalogue, please go to our website at http://www.theredmasque.com/mythalogue.html.
Or watch a youtube video of our song "The Minotaur": http://youtu.be/erEhE4vKDus