Pastel on Mi-Teinte Tex Paper (Dark Blue) – 50cm x 30cm approx.
I am winding down after a busy time organising an art show, amongst other busyness, and I decided I needed a 'sea change' artistically! Thank you so much Terry Everson (who takes the most amazing photographs of our beautiful country) for allowing me to use his image 'Storm Approaching':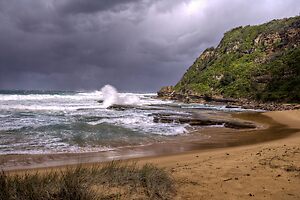 Storm Approaching
by Terry Everson
I had such fun with that sky, and I played around with the colours to make them lean towards blue/orange complementaries.
WINNER OF BEST PASTEL AWARD – Broadford Art Show, 22nd February 2014
Featured in Painters Academics – November 2012
Featured in Painters Universe – December 2012
Featured in Superbly Visual – February 2013
Featured in Sea Group – February 2013
Featured in Women Painters – April 2013
Featured in You Got It We Want It – July 2013
Top Ten in Stormy Weather Challenge in Women Painters – August 2013