Pastel on Mi-Teinte 'Tex' paper (burgundy) 55cm x 35cm approx.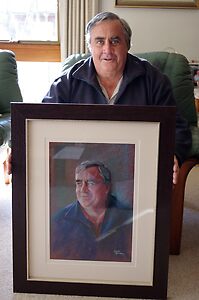 Ken with his Portrait
by Lynda Robinson
This is a commissioned portrait of a very well known, much admired, community minded Seymour resident, Mr. Ken Hall. He has worked tirelessly within the community for many years on various projects, but most notably, the King's Park Committee. His community involvement and passion for improving the town was recognised by an Australia Day Award a couple of years ago.
Featured in Photo Realistic Artwork – August 2012
Featured in Art Universe – August 2012
Featured in Painters Academics – August 2012