RB VISITOR AND 'BUCKET LIST' FULFILMENT!
It would be approximately a year ago that fellow RedBubbler Greg Pastoll told me that he had, as an item on his 'Bucket List', the desire to paint the Goulburn River with me. I thought that was a lovely thing to say, but didn't think too much more about it since Cape Town, South Africa, where Greg lives, is quite a distance from Seymour in Australia where I live! However, on the 3rd of January he was able to tick that item off his list and here is the proof…..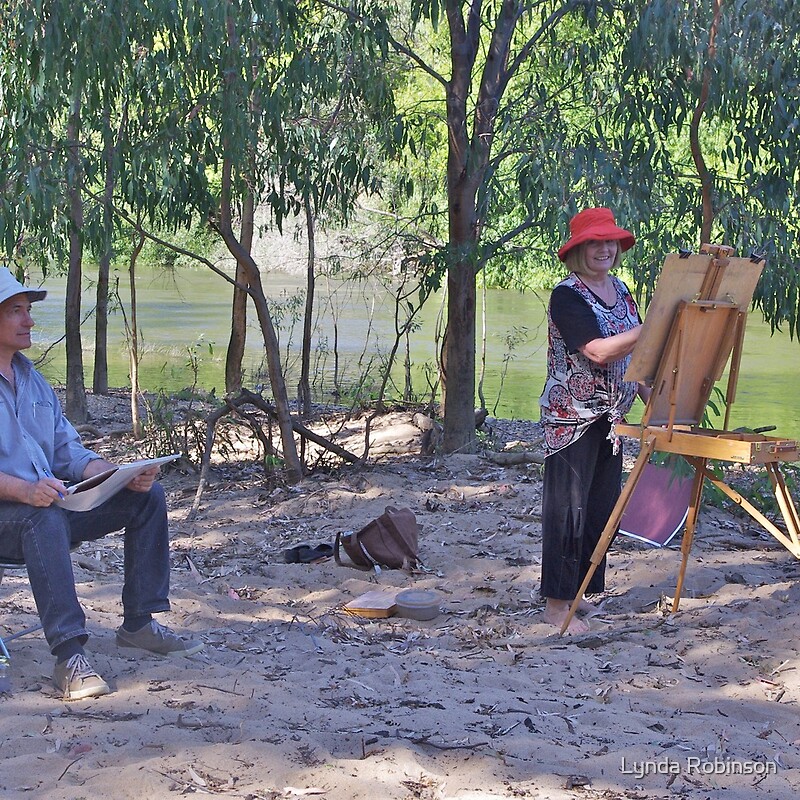 I'm the one in the red hat! LOL! True to his word, Greg decided to visit me in Australia whilst also taking in Perth, Western Australia, Sydney and New Zealand. Greg and his lovely fiancee (Lindsay) spent a week with my husband Pete and myself. We were able to show them some of the Australian countryside and we also visited the wonderful Castlemaine Gallery.
For our painting excursion we set off early in the morning as the day was predicted to be a warm one. (The prediction was true)!!! I had picked out a very pretty spot beside the Goulburn River in the picturesque Trawool Valley. We set up our gear in a nice shady spot, and painted from about 8.30 a.m. until around 3.00 p.m. whilst Lindsay sat in the shade and read a book.
Greg managed to complete a whole painting, which he very generously gave me as a gift!!! I will treasure it! I managed to commence two works which are still unfinished, but I have enough information to complete them either in the studio or by making a return trip to the river later this week.
Thank you Greg for your enthusiasm and support of my work on RedBubble and for coming to visit us. It was a fantastic week and this was a most delightful and unforgettable day! Here are a few more photos.
MY WORK IN PROGRESS

GREG'S FINISHED WORK