'ART 4 CFA' ART SHOW - EASTER 2014
If you happen to be travelling anywhere near the Seymour, (Victoria, Australia) region during Easter, please take a little rest from driving to call in to the ART 4 CFA Art Show! Twelve artists from the area have combined to put this show together, following the success of a similar fundraiser for the CFA last Easter. The idea is to raise funds for the Hilldene Fire Brigade, a group of volunteers who are members of the Country Fire Authority. From the Hume Highway in either direction take the Seymour/Puckapunyal exit and travel towards Puckapunyal/Tooborac. The Hilldene Fire Station will be easily found approximately 2 kilometres along the Seymour/Tooborac Road.
Each of the twelve artists was asked to paint 10 paintings, and we have all been working extremely hard since the beginning of the year to achieve that goal. Here are a few photos of some of the artists involved, and if you listen carefully you can almost HEAR the concentration amid swishing of brushes, splashes of paint, and scratching of pastels!
An interesting aspect of this show, is that all twelve artists have been asked to paint the same still life subject, just for a bit of fun, and the resulting display is going to be very interesting indeed! We did a similar 'experiment' last year at a similar show, and it caused much discussion and interest among the viewers.
Here are some of the outcomes to date:
The opening night will be a glittering occasion. The show will be officially opened at 7.00 p.m. on Thursday the 17th of April, by Claire Higgins, Chair of the CFA Board. Refreshments will be provided by Mitchelton Wines, Yea Cheeses, and the Hilldene Fire Brigade Catering Committee.
This is the Raffle Prize…….. 'Evening at McLarty's' by L.R.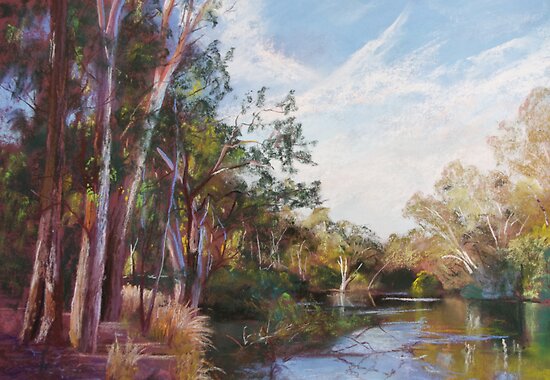 and Alan Brown will donate 50% commission to the CFA on this work – 'Hilldene in Action'