My name is Luke, Red Bubble is giving me a chance to express and publish the images I have discovered in myself.
Some stories about me…
I love photo's, art, surfing, skiing, the heat and the cold under the right circumstances, coffee, tea, actually Cafe's in general, my friends and family, urban culure, city jammin and country livin'. I like hitting the road and the simple composition of life, I draw from these experiences and use it were I can.
Look for my photos leave comments and put me on your watchlist. I look forward to hearing from all of you.
Other places to find me or my work
BubbleSite
Hey! Are you a dreamer?
Don't see too many of you around lately.
Things have been tough lately for dreamers.
They say dreaming's dead and no one does it anymore.
It's not dead. It's just that it's been forgotten…removed from our language.
Nobody teaches it so no one knows it exists.
The dreamer is banished to obscurity.
But I'm trying to change all that and I hope you are too…..by dreaming everyday.
Dreaming with our hands, dreaming with our minds.
Our planet is facing the greatest problems it's ever faced – EVER!
So whatever you do, don't be bored.
This is absolutely the most exciting time you could have possibly hoped to be alive.
And things are just starting.
---
Images Featured in Groups (You can click on these)
Thank you to everone for the comments and to the moderators for choosing my Art to feature in your group. It is so great to have the feedback from the Red Bubble Community.
Harajuku



Golden Shores



B&W Sunflower



Blue Steel



The Sky Is Falling



Highway 1



Take Your Time And Enjoy The View


Food For Thought



The Arrival Of Light


Dickies Beach Wreck



Japanese Poser



Keep following the sun and it will always shine on your face



Home Page Feature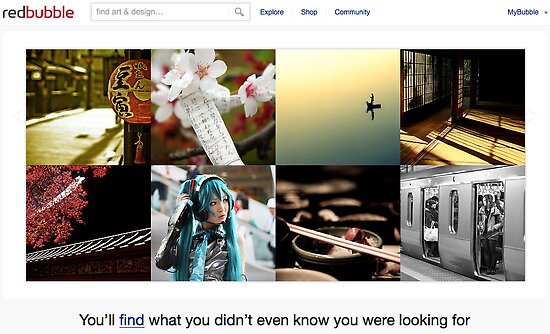 Blue Frey