National Maritime Museum,Greenwich, UK
Greenwich is best known for its maritime history and for giving its name to the Greenwich Meridian (0° longitude) and Greenwich Mean Time. The town became the site of a Royal palace, the Palace of Placentia from the 15th century, and was the birthplace of many in the House of Tudor, including Henry VIII and Elizabeth I. The palace fell into disrepair during the English Civil War and was rebuilt as the Royal Naval Hospital for Sailors by Sir Christopher Wren and his assistant Nicholas Hawksmoor. These buildings became the Royal Naval College in 1873, and they remained an establishment for military education until 1998 when they passed into the hands of the Greenwich Foundation. The historic rooms within these buildings remain open to the public; other buildings are used by University of Greenwich and the Trinity College of Music.
The town became a popular resort in the 17th century with many grand houses, such as Vanbrugh castle established on Maze Hill, next to the park. From the Georgian period estates of houses were constructed above the town centre. The maritime connections of Greenwich were celebrated in the 20th century, with the sitting of the Cutty Sark and Gipsy Moth IV next to the river front, and the National Maritime Museum in the former buildings of the Royal Hospital School in 1934. Greenwich formed part of Kent until 1889 when the County of London was created.
I took this shot from boat with Nikon D5000, Tamron 18-250, HDR from 1 raw shot , gradual ND, hand hold, , Oloneo , CS5
12 Sep 2011


Greenwich, UK was featured in the group CHALLENGE WINNERS VAULT
28 Jul 2011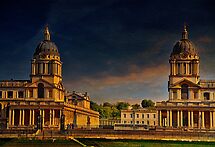 Greenwich, UK was WINNER of the challenge Buildings – from outhouses to skyscrapers in the group Cee's Fun Artsy Frie…
10 Jun 2011


Greenwich, UK was featured in the group Architecture – The British Isles
17 May 2011


Greenwich, UK was featured in the group The World As We See It , or as we missed it.