Canon XTI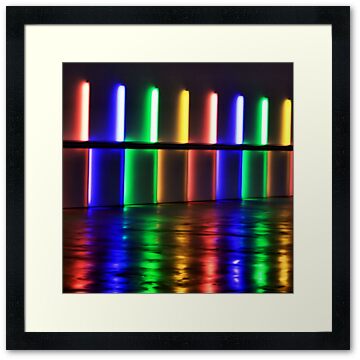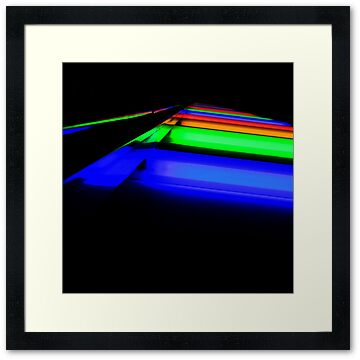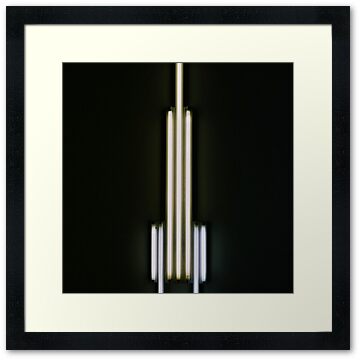 What a great day at The Menil Collection — A Museum & A Neighborhood of Art.
This is the story about the lights :
In 1990 Dominique de Menil approached the Minimalist sculptor Dan Flavin to create a permanent, site-specific installation at Richmond Hall, then an annex exhibition space. Just two days before his death in November 1996 Flavin completed the design for the space. The artist's studio completed the work.
Built in 1930 as a Weingarten's grocery store, Richmond Hall housed a series of bars, including, in its last incarnation, Van's Stampede Ballroom, a country-and-western dance hall. Knowing that it would likely be demolished if purchased by a developer, the Menil Foundation acquired the building in 1985.
De Menil gave Flavin complete creative control over the project. He chose not to alter the original structure, designing three distinct pieces for the site as it existed. For the first, Flavin installed a horizontal line of green fluorescent lights on the exterior of the building to articulate the structure's top edges along its east and west sides. The building's entrance lobby contains a second work consisting of two sets of white lamps mounted diagonally on the original foyer walls.
The largest of the three pieces occupies the building's main interior space. Above and below dark purple lines of filtered ultraviolet lamps, colored fluorescent tubes progress the length of the room. The colors, alternating in a repeating pattern of pink, yellow, green, and blue, seem to puddle onto the gallery's polished concrete floor.
In the summer of 2003, the Menil converted a storage room in Richmond Hall into a gallery to display four earlier works by Flavin, his "monuments" to V. Tatlin (1964–1969). Over the course of his career, Flavin made nearly fifty such "monuments" dedicated to Vladimir Tatlin (1885–1953), one of the leaders of Russian Constructivism, the avant-garde art movement that flourished in Moscow and St. Petersburg following the Revolution of 1917