CanonXTI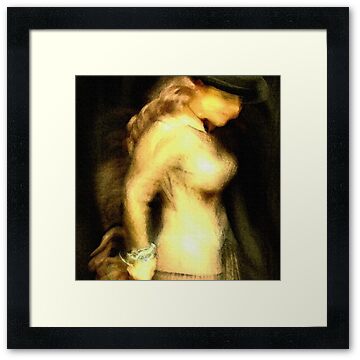 a self portrait with a touch of distortion gives it a Victorian feel . This piece is very dear to me.
I 've had this piece for over 4 years, and here recently decide to put it out. When I first shot this self portrait, I was only shooting for a couple of years, I loved this shot but, didn't have the confidence in myself or my work.
Then one day I saw on myspace someone doing some distortion… and thought I have work like that lol… I going to throw it out there and see what kind of reaction I get.
Well, everyone loved it.
So this year I printed it and gave to my mom for Christmas.
I also have a dear friend that seen another piece from this series that he liked and he asked me if he could do a stain glass piece of it and I said YES!!! My mom has that one too. * smiles*
So maybe the moral of this story is , when in doubt about your work, don't sit on it ..throw out there or ask somebody… and always always believe in yourself and your art!
Opportunity Falls
When you drop your camera
and your most expensive lens,
your heart drops with it
hard
onto the pavement
After all,
surely it's a sign
that your new way of seeing
is too precarious.
Maybe you should listen
to the others,
go back to seeing
what they say
was always good enough,
before.
Trying to photograph a full moon
in a mackerel sky
on an old tri-pod
is tricky at best,
but if there's a sign here,
it's about time,
the shock of opportunity
to try something new.
Who knows what speeds
a new shutter drive will find,
what images will focus
in a newer lens.
Just be ready to move ahead
when opportunity falls
at your feet
found this poem on Woman can do it.com