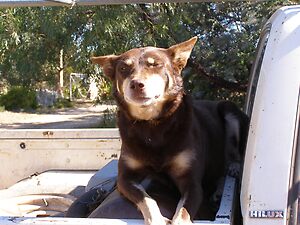 'I'M NOT ALLOWED DOWN, BUT I'D LOVE A PAT!' Meg the Kelpie.
by Rita Blom!
'I'm not allowed down but I'd love a Pat'! Is an image of our Share Farmers working Kelpie and when she comes to work the sheep I always make sure we greet each other. When she is allowed down Meg always comes over for more pats and she is a dear friend.
I am so happy that someone bought this image. Thank You! I hope you are as pleased with the finished product..