Scissors. I think there are around 28 pairs of scissors in my household. Is this obsessive? Mind you, this is including nail scissors and sewing scissors – but doesn't include the pack of 20 fancy edged scissors that the girls have each. I simply cannot stand it when there are no scissors ! They are vital to my sense of well being. I have a secret stash, hidden for those times when the scissors all seem to have disappeared! I have a family of scissor snatchers. They mysteriously end up in that black hole in the universe where all the odd socks go, the biros, the chess pieces, the queen of hearts or the 2 of spades, all the paper clips when you need one, ditto the rubber bands – and hair elastics!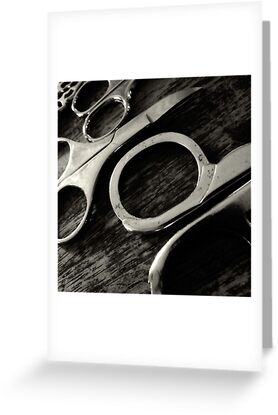 Fujifilm Finepix S1500, macro setting
Shot in black and white, and then played with in photoshop to warm up the tones.