Pastel on black Colourfix pastel paper
50cm x 70cm (August 2010)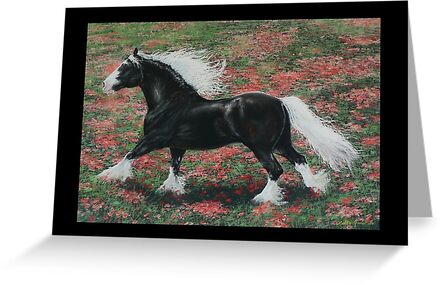 I had an imaginary horse as a child – he was a pure black with a white mane & tail. Finally my parents bought me a pony at the age of 13, she was a grey Welsh Mountain x Anglo Arab filly.
Having always loved Palomino & Paint Horses I got involved with the Western horses years after that. But that elusive black with the silver mane & tail has not disappeared – so here he is.
After a trip to the Sydney Royal earlier this year I saw 2 gorgeous black Clydesdales with white blazes & 4 white stockings – they were the closest
I have seen to my imaginary steed. A friend sent some pics of her latest Irish import Gypsy stallion galloping in his paddock after he arrived in Australia. His mane, tail & feathers are so long & luxurious, I've been dying to use him in some way for a painting, even though he is a bay & white colour.
According to Lady Wentworth's book on horses there once was an original breed of horse from Eastern Tartary called Karabolo – jet black with white tail, mane & legs. The Khan of Tartary kept 10,000 white horses.
The Greek hero Pollux had a horse named Cyllaros, who was coal black with a white mane & legs – obviously of the Karabolo breed.
So there you have it – there once was such a horse!
This one's for Maxy, Fran & Elizabeth – hosts of the Solo Exhibition group who I woud like to thank deeply for the opportunity of Solo Artist's feature
in the group.
Hope you girls enjoy the ride!
Featured in NEWMAN'S PET TEES & ART GROUP – August 2010
Featured in ARTISTIC, CREATIVE & VERY TALENTED GROUP – August 2010
Featured in CONTEMPORARY PASTEL PAINTERS GROUP – August 2010
Featured in SIMPLY HORSES GROUP – September 2010
GYPSY FIRE (23/02/11)
Where poppies bloom in full day sun,
buds reaching for the light
A jet black Gypsy horse does run,
with mane and tail of white.
The flowers cast their scarlet hue,
his black coat red with fire
He runs beneath the sky so blue,
a proudly muscled sire.
Through ages past his breed long gone,
just one horse left behind
And in his blood, his race lives on
the last one of his kind.
(Text by Louise Green)