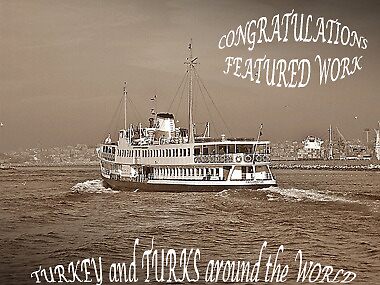 Feature in Group Art and Collectible sales…
http://www.richards-photos.net/we_sell_0ac/we_s...!
From Wikipedia…
There are two necropoli of Lycian rock-cut tombs in the form of temple-fronts carved into the vertical faces of cliffs at Myra: the river-necropolis and the ocean-necropolis. The ocean necropolis is just northwest of the theater. The best known tomb in the river-necropolis (located 1.5 km up the Demre Cayi from the theater) is the "Lion's tomb,"also called the "Painted Tomb." When the traveller Charles Fellows saw the tombs in 1840 he found them still colorfully painted red, yellow and blue.Now it does not have paint on, but is still beautiful and interesting. Myra's necropolis occupies a notable place in architectural history because of the variety of tombs it contains. Today, a large portion of them, often the subject of posters and cards, have been grouped together on the rocky slopes on both sides of the theatre. Nearly every centimetre of the rocks was put to use, adapting Lycia's traditional wooden architectural forms, with great mastery, to stone. Plain examples stand alongside elaborately decorated and carefully planned ones that conform in shape to houses or temples. Taking a look at the principal examples, one of the most notable is a house-type tomb on the lower level beside the theatre; carved at the centre of its pediment are two running warriors carrying shields. A little higher, at approximately the middle of the group is a tomb decorated with a relief. The middle relief depicts two youthful warriors standing with spear and shield in hand. The reliefs can be dated to the end of the fifth or the beginning of the fourth century B.C.