Featured in Art Universe May 29, 2012.
A wild rose which has grown and flourished in the depths of our yard, near the woods, since long before our home was built. In the air of a late May or June evening, sometimes, we catch a breath of its sweet fragrance.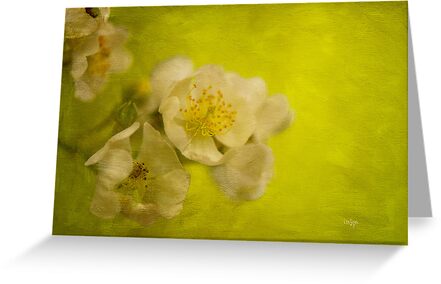 "My Wild Rose"
by Ellen P. Allerton
I had a garden, which I kept
With busy hands and tender care;
And once, while carelessly I slept,
Fanned softly by the drowsy air,
A wild rose to my garden crept,
And blossomed there.
O, sweet surprise. It seemed to me,
Some fair hand, my heart to bless,
Had brought it there, from wood or lee.
It came unsought 'twas loved no less;
I stooped and touched it tenderly,
With soft caress.
I grew to love it passing well;
While strange exotics, rich and rare,
With heart of gold and crimson bell,
Paid grudgingly for constant care,
My wild rose, as in a woodland dell,
Bloomed fresh and fair.
I watered not, I did not prune,
I tied it not with cord or thong;
Yet, morn by morn and noon by noon,
Through days of summer, hot and long,
And underneath the midnight moon,
From branches strong
Hung clustered blossoms sweet and red;
And day by day and week by week,
I trod the path which toward it lead.
Whate'er my mood. I did not speak,
But close against bowed my head
And pressed my cheek.
I think of it with sudden thrill.
Now wide lands lie, deep water flows,
Smiles many a vale, looms many a hill
Between me and the garden-close;
Yet fondly I remember still
My sweet wild rose.
Photographic image captured with the Nikon D300 and the 105mm vr Nikon macro lens, May 2012. Treated to much fiddling in Adobe Raw, Photoshop CS4 and 5 and hand painting in Corel Paint 11. Texture courtesy of French Kiss. My thanks to my dear friend Beve Brown-Clark ( Reflective Moments – Photography and Digital Art Images ) who has, over the years, encouraged me to shoot in raw.