Best on Full Size
Featured in the best of Anything and Everything February 17, 2012.
Featured in Art In Math December 21, 2011.
Featured in Art Universe December 13, 2011.
Featured in RedBubble's Explore Photography and Digital Art Sections December 14, 2011.
Featured in Visual Texture November 14, 2011.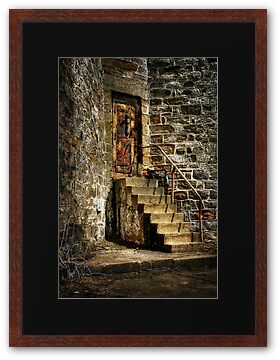 One of the locked doors to the open exercise area at the Pennsylvania Eastern State Penitentiary in Philadelphia, Pennsylvania. I was fascinated with the textures of the stone and the rust and the harsh shadows created by the un filtered sunlight.
Image taken with the Nikon D300 and the 18-200mm vr Nikon lens April 12, 2011 with other members of the
Welcome Pennsylvania
group. Image treated to hdr from a single, hand held .jpg image in Photomatix, duplicated twice Photoshop CS4. Also tinkered with in CapNX2 and Camera Raw. My thanks to Skeletal Mess and Princess of Shadows for the textures.