Featured in Altered By Imagination December 31, 2011.
Featured in Pennsylvania Photographers On Vacation May 16, 2011.
Featured in Ontario April 30, 2011.
Featured in Art Universe March 31, 2011.
Featured in Light of Love March 28, 2011.
Featured in The Birds March 26, 2011.
Featured in RedBubble's Explore Photography and Digital Art sections March 21, 2011.
Featured in Live and Let Live March 20, 2011.
Featured in Depth of Field March 20, 2011.
Featured in Image Writing March 20, 2011.
Best on Full Size
This sweet little black capped chickadee may be the very one who ate a sunflower seed from the top of my head!!! When Beve Brown-Clark and I visited Renee Dawson and Lynda McDonald in Ontario Canada last year, we walked through the most magic forest lane at Presq'uile Park. The chickadees have been trained to know that humans will bring them seeds … and if it means landing on some goofy lady's head to get it, then that's what they'll do!!! This image was shot just after I had that experience.
: ))
Image taken on April 23, 2010 with the Nikon D300 and the 150-500mm Sigma OS lens, at 500mm focal distance. Shutter speed was at 1/500, aperture f/8.0, exposure -0.33, iso 1600, spot metering.
There was much tweaking and twiddling in various software programs, most notably Photoshop CS4, Corel Paint 11 and Capture NX2.
Detail: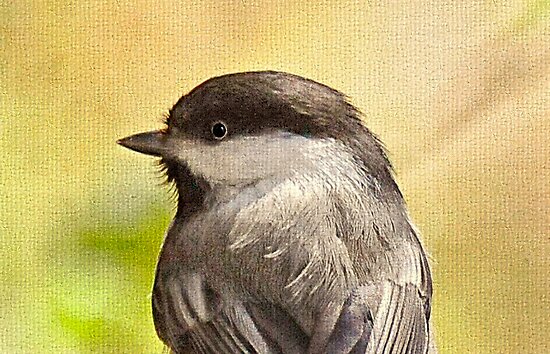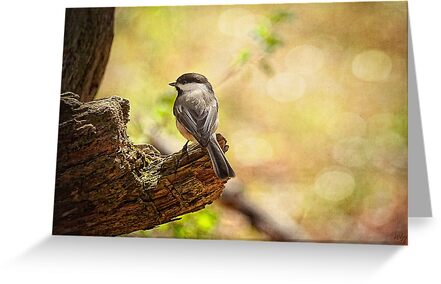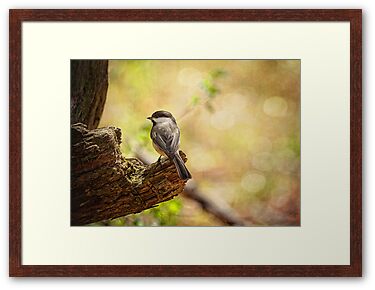 My thanks to Florabella, Flypaper Textures and Jerry Jones of Flickr for the textures.