Third Place in the "Sleeping Domestic Cats_ challenge in Safe Haven March, 2011.
Top Ten in the "Domestic Cats" challenge in The Best of Anything and Everything February 10, 2011.
Featured in Cat's Pajamas January 31, 2011.
Featured in #1 Artists of RedBubble January 11, 2011.
Featured in Layered With Texture January 11, 2011.
Featured in Welcome Pennsylvania October 24, 2010.
Featured in the RedBubble Featured Digital Art section October 22, 2010.
Featured in Cats and Dogs October 20, 2010.
Featured in Nikon DSLR Users October 19, 2010.
Best on Full Size
This darling kitty is a resident of Old Bedford Village … a living history museum … in Bedford Pennsylvania. She very kindly posed for my camera several times. I think she's probably used to it!!!!
I think she was playing 'possom … pretending to be sleeping. As she laid there, all unconcerned about me and my camera, her tail kept twitching up and down … up and down …
Image taken with the Nikon D300 and the 18-200mm vr Nikon lens. Tonemapped in Photomatix Pro from a single hand-held shot, duplicated twice in PS to evals of +/-2. Textures and other twiddly bits added in Photoshop CS4.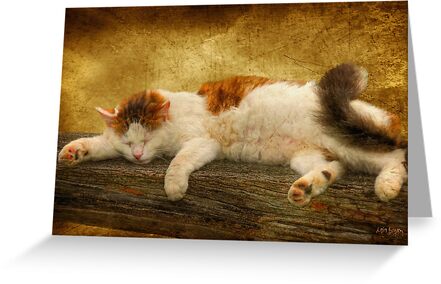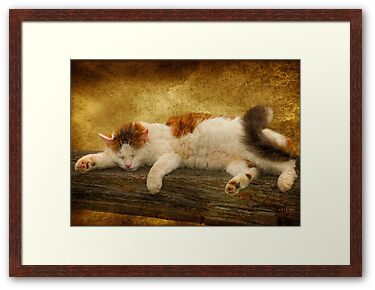 My thanks to Tellzy at Flickr for the great background texture!