Top Ten in the "Birds In The Spotlight – Spread Those Wings" challenge in Featured For A Chalenge group September 28, 2011.
Featured in Featured for a Challenge September 11, 2011.
Featured in The Wonder of Wings January 10, 2011.
Featured in Layered With Texture November 29, 2010.
Third Place in the "Flights of Fancy" challenge in The Sisterhood group November 24, 2010.
Featured in The Group October 26, 2010.
Featured in Ontario September 17, 2010.
Featured in Friends of Bangor and North Down Camera Club, Northern Ireland August 8, 2010.
Featured in Story and Image August 4, 2010.
Featured in Cards: Best Of Your Best August 1, 2010.
Featured in Sets of Two July 24, 2010.
Featured in Graphic Editing 101 July 23, 2010.
Featured in #1 Artists of RedBubble July 23, 2010.
Featured in THE WORLD July 22, 2010.
Featured in Around The World July 21, 2010.
Featured in Image Writing July 21, 2010.
Best on Full Size
1414 views May 1, 2011
Companion Piece to Lady-In-Waiting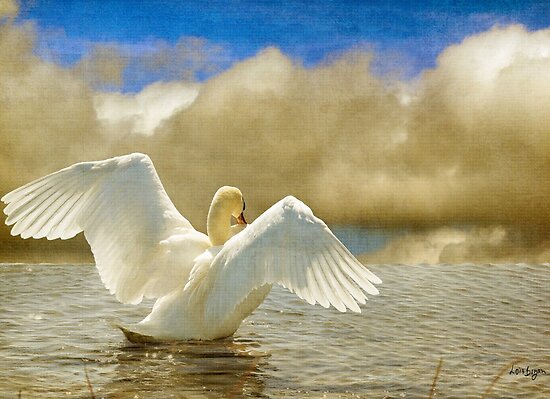 "The phrase "swan song" is a reference to an ancient belief that the Mute Swan (Cygnus olor) is completely mute during its lifetime until the moment just before it dies, when it sings one beautiful song.
Mute Swans are not actually mute during life – they produce snorts, shrill noises, grunts, and hisses – and they do not sing as they die. Peterson et al. note that Cygnus olor is "not mute but lacks bugling call, merely honking, grunting, and hissing on occasion." This folktale has been contested ever since antiquity. In 77 A.D. Pliny the Elder refuted it in Natural History (book 10, chapter xxxii: olorum morte narratur flebilis cantus, falso, ut arbitror, aliquot experimentis), stating: "observation shows that the story that the dying swan sings is false."
Nevertheless, the folktale has remained so appealing that over the centuries it has continued to appear in various artistic works. Aesop's fable of "The Swan Mistaken for a Goose" alludes to it: "The swan, who had been caught by mistake instead of the goose, began to sing as a prelude to its own demise. His voice was recognized and the song saved his life." Ovid mentions it in "The Story of Picus and Canens": "There, she poured out her words of grief, tearfully, in faint tones, in harmony with sadness, just as the swan sings once, in dying, its own funeral song."
The well-known Orlando Gibbons madrigal (The Silver Swan) states the legend thus:
"
The silver Swan, who living had no Note,
when Death approached, unlocked her silent throat.
Leaning her breast against the reedy shore,
thus sang her first and last, and sang no more:
"Farewell, all joys! O Death, come close mine eyes!
"More Geese than Swans now live, more Fools than Wise."
"
Chaucer wrote of "The Ialous swan, ayens his deth that singeth." In Shakespeare's The Merchant of Venice, Portia exclaims "Let music sound while he doth make his choice; Then, if he lose, he makes a swan-like end, Fading in music.
Tennyson's poem "The Dying Swan" is a poetic evocation of the beauty of the supposed song and so full of detail as to imply that he had actually heard it:
" The wild swan's death-hymn took the soul
Of that waste place with joy
Hidden in sorrow: at first to the ear
The warble was low, and full and clear; …
But anon her awful jubilant voice,
With a music strange and manifold,
Flow'd forth on a carol free and bold;
As when a mighty people rejoice
With shawms, and with cymbals, and harps of gold… "
my thanks for the above interesting info to Wikipedia
This image is a compilation of two of my own images, plus several textures from FloraBella. I can't describe the excitement we felt as this magnificent creature flew over us … the swan may or may not "sing" … but the music made by its wings will never, ever be forgotten!!!
The swan's image was taken in the beautiful Presqui'le Provincial Park in Brighton, Ontario Canada in April of 2010 with the Nikon D300 and the 150-500mm OS Sigma lens at 500mm focal distance; the cloud background was taken from my backyard in Maryland with the Nikon D300 and the 18-200mm vr Nikon lens. All combined in Photoshop CS4.