Featured in Art Universe June 25, 2011.
Featured in Grunge It Up April 6, 2011.
Featured in Amazing Wildlife February 15, 2011.
Featured in #1 Artists of RedBubble July 7, 2010.
Featured in Textures Unlimited May 23, 2010.
Featured in Mood & Ambience May 18, 2010.
Best on Full Size
While Beve Brown-Clark and I were visiting Renee Dawson and Lynda McDonald in Ontario, Canada, Lynda showed us her favorite spot for watching ospreys. We were in luck! The male was just bringing in some nesting materials, as his lady eagerly waited. At first we thought he had a fish, but on closer inspection, it seemed to be some seaweed or kelp.
This image is a compilation of three of my own images and several borrowed textures. The male and female were snapped individually and put together in Photoshop CS4 and the background image of Quinte Bay was layered in behind them.
All three images were taken with the Nikon D300 … the two osprey images with the 150-500mm OS Sigma lens, and the bay with the 18-200mm VR Nikon lens and CP filter.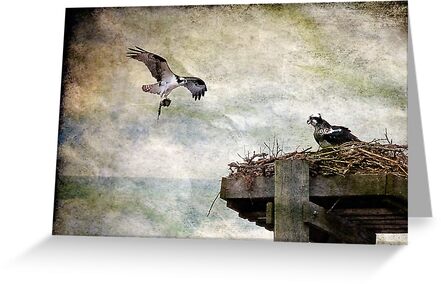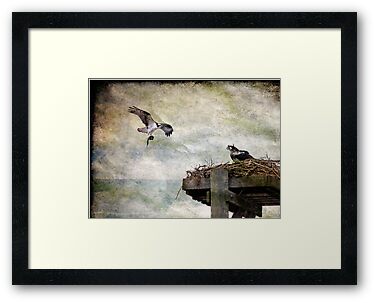 ~my thanks to ghostbones and skeletal mess on Flickr, and CGTextures for the textures used.