Featured in Stairs and Staircases October 18, 2010.
Top Ten in the "Built from Rocks – Paths, foot bridge, steps" challenge in the Which Way group May, 2010.
Featured in Rhododendrons May 15, 2010.
Featured in Spring, Glorious Spring May 5, 2010.
Featured in We Sell Art & Collectables May 3, 2010.
Best on Full Size
This image was taken at the Brighton Azalea Garden in Montgomery County in May of 2009 with the Nikon D40x with the 18-200mm vr Nikon lens. I'm sad to say I've visited the gardens recently and a good part of the lovely azalea shrubs are in dire need of some tender loving care. Let's hope the economy springs back enough for the caretakers to get back in there and set everything to rights before it's too late!!
Post work included duplicates of a single jpeg image created in Photoshop CS4 to evals of +/-2, then hdr image produced in Photomatix Pro, considerable cloning of errant twigs and adding in of more blossoms here and there, gradient layers, dodging and burning, and the addition of a filter and textures.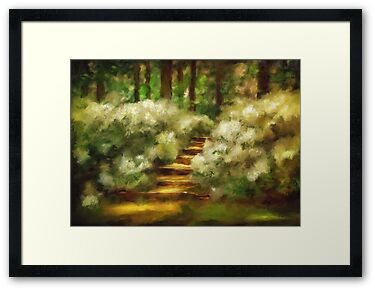 My thanks to Princess of Shadows at Deviant Art for the texture!!