Featured in Ontario August 5, 2011.
Featured in Monochrome In Color May 27, 2011.
Featured in Ontario March 12, 2011.
Top Ten in the "Inspiring" challenge in Love Affair With The Lens group July 5, 2010.
Featured in Lost In Space May 5, 2010.
Featured in The Birds May 5, 2010.
Featured in The Power of Simplicity May 4, 2010.
Best on Full Size
A little marsh wren singing his heart out in the amazing Presqu'ile Park marshes in Ontario, Canada … Lynda McDonald and I stood there for quite some time enjoying his widdle song and snapping happily away!!! I was sorely tempted to crop in a bit … but kind of liked the negative space, so did not. To me, the negative space helps emphasize the tininess of the wren and hints at the vastness of this extraordinary area giving a visual sense of the glorious aloneness of the natural world.
Image taken with the Nikon D300 and the 150-500mm OS Sigma lens at 500mm. Shutter 1/4000, aperture f/7.1, exp. -0.33, iso 1600. One chip color area and spot metering. Texture added in Photoshop CS4.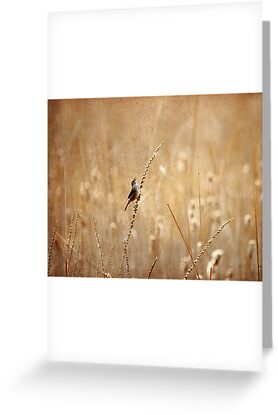 My thanks to Princess of Shadows at Deviant Art for the Texture.