Featured in Grunge It Up June 20, 2011.
Featured in Scenery March 16, 2011.
Featured in Blooming Trees August 13, 2010.
Best on full size.
The Washington Monument, Washington DC., USA, surrounded by cherry blossoms.
The Washington Monument is an obelisk near the west end of the National Mall in Washington, D.C., built to commemorate the first U.S. president, General George Washington. The monument, made of marble, granite, and sandstone, is both the world's tallest stone structure and the world's tallest obelisk, standing 555 feet 5⅛ inches (169.294 m). There are taller monumental columns, but they are neither all stone nor true obelisks. It is also the tallest structure in Washington D.C.. It was designed by Robert Mills, an architect of the 1840s. The actual construction of the monument began in 1848 but was not completed until 1884, almost 30 years after the architect's death. This hiatus in construction happened because of co-option by the Know Nothing party, a lack of funds, and the intervention of the American Civil War. A difference in shading of the marble, visible approximately 150 feet (46 m or 27%) up, shows where construction was halted for a number of years. The cornerstone was laid on July 4, 1848; the capstone was set on December 6, 1884, and the completed monument was dedicated on February 21, 1885. It officially opened October 9, 1888. Upon completion, it became the world's tallest structure, a title previously held by the Cologne Cathedral. The monument held this designation until 1889, when the Eiffel Tower was completed in Paris, France. The monument stands due east of the Reflecting Pool and the Lincoln Memorial.
… thank you Wikipedia
The Washington Monument is a part of the National Park's Service, US Department of the Interior, a part of The National Mall and Memorial Parks.
Image taken April 2, 2010 with the Nikon D300 and the 18-200mm vr Nikon lens, cp filter attached. Shutter speed 1/25, aperture f/20.0, exp 0.00, iso 200. Post work included hdr in Photomatix Pro from a single .jpg duplicated twice in Photoshop to evals of +/-2 then back to Photoshop for curves, levels and textures.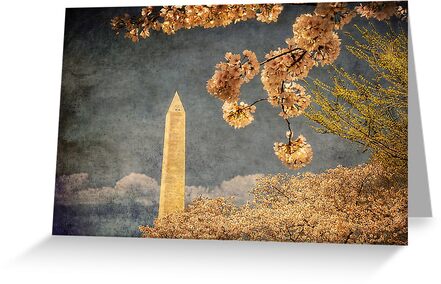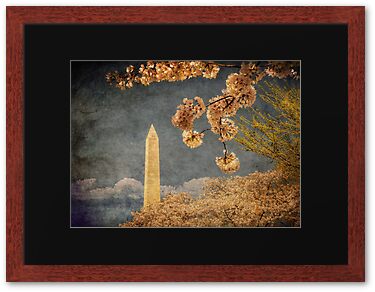 my sincere thanks and appreciation to ghostbones on flickr for the textures used