Featured in Art Universe June 24, 2011.
Featured in Beautiful Grunge Art October 8, 2010.
WINNER of the "Cities Around The World – Washington DC" challenge in Cityscapes and City Skylines June 24, 2010.
Featured in Enhanced Photos April 21, 2010.
Featured in ALL AROUND THE STYLES April 19, 2010.
Featured in #1 Artists of RedBubble April 17, 2010.
Featured in Nikon DSLR Users April 18, 2010.
Best on full size.
"I steer my bark with hope in the head, leaving fear astern. My hopes in deed sometimes
fail, but not oftener that the forebodings of the gloomy."
Thomas Jefferson
my thanks to my dear friend Bill Fox the quote!!
I'd like to thank everyone for their patience with me … the original image of Thomas Jefferson which I recently posted just wasn't cutting it for me. I probably have a dozen (at least) different workings in the computer of that one … not counting the versions I've deleted … but I just wasn't happy with it. Even after I posted, I changed it on here about 5 times. Oh heavens … I really MUST get a life!!! Anyhow, still not being happy with it, I took some lovely textures and other PS tinkerings to it .. and think it finally conveys the mood I was looking for. If by posting a similar image and adding it to some groups is against the rules, please don't give a second thought to booting it out … seriously, no problem!!!! Again, my apologies for boring everyone with this image once again, but I did want to get it up into my BubbleSite. No need to re-comment … and thank you in advance for your kindness.
This image is also available at Lois Bryan at fine art america in an exciting variety of framing and matting options.
The Jefferson Memorial is managed by the National Park Service under its National Mall and Memorial Parks division.
Image taken with the Nikon D300 and the 18-200mm vr Nikon lens, cp filter used. Shutter speed 1/250, aperture f/8.0, exp. +0.33, iso 200. Post work included hdr in Photomatix Pro from a single image duplicated at +/- 2 in Photoshop CS4. Several textures at various blend modes and a few gradient layers added for good measure.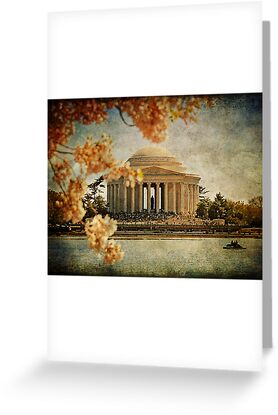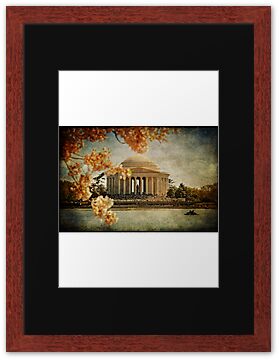 my sincere thanks and appreciation to ghostbones on flickr for the textures used.
<iframe title="YouTube video player" width="640" height="390" src="http://www.youtube.com/embed/HfOnSrFGD28?rel=0" frameborder="0" allowfullscreen></iframe>