Featured in Welcome Pennsylvania March 28, 2010.
Best on Full Size
A huge crowd of snow geese taking off from the water at the Willow Point – Middle Creek Wildlife Management Area (Kleinfeltersville, PA). A great group shoot with fellow 'Bubblers Lori Deiter , ElisaB , Dave Stauffer , BigD , Dan Myers , Ann Rodriguez and Mike Rucci
We wondered how all these beautiful snow geese could take to the air without an accident … but it seems that it does happen … the below image, the Protectors was taken on the same day, also at Middle Creek.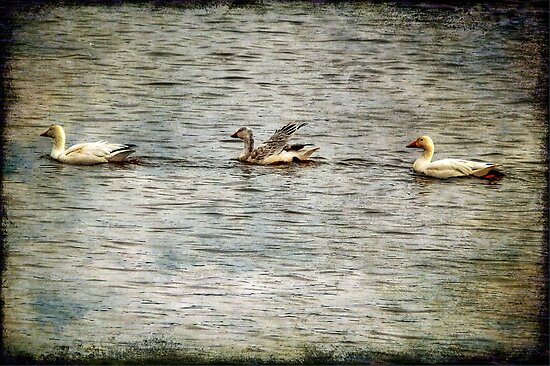 .
Looking closely, you'll see that the middle goose's wing is tipped up at an odd angle. I'm hoping he'll be okay.
"When a goose gets sick, wounded or shot down, two geese drop out of formation and follow it to help and protect it. They stay with it until it dies or is able to fly again. Then they launch out with another formation or catch up with the flock."
Quote from Acts International – Lessons From Geese
Image taken with the Nikon D300 with the 18-200mm VR Nikon lens on March 10, 2010. Shutter speed 1/800, aperture f/9.0, exp. 0.00, focal length 150mm, spot metering, iso 500. Post work included addition of a texture layer in Photoshop.