Top Ten in the "Manipulated Art – 1st of April" challenge in 2-a-week April 10, 2010.
Top Ten in the "Illusion" challenge in REDemption March 25, 2010.
Second Place in the "Spring has Sprung" challenge in Challenge Cafe March 18, 2010.
Featured in Spring Blooms March 13, 2010.
Featured in ! Inspired Art ! March 10, 2010.
Featured in Light of Love March 4, 2010.
Featured in Image Writing March 4, 2010.
Featured in Let There Be Light March 3, 2010.
Featured in DSLR Users Only March 2, 2010.
Best Viewed Large
This image is also available at Lois Bryan at fine art america in an exciting variety of framing and matting options.
The daffodil / jonquil / narcissus (whichever one it is!!) has always been my favorite flower … probably because it blooms right around my birthday. Combine the fragrance of a jonquil with Easter Bunny chocolate and there you have my childhood!!! And, in fact, these flowers grew from bulbs given to me by my mom!! How cool is that??
I'd like to give a big thanks to Irene K. (Maxal) for the inspiration on this one … I urge anyone who hasn't seen her work to run .. do not walk .. your little fingers over to view her Tulips as well as the rest of her extraordinary gallery!!
This image was taken with the Nikon D40x and the 60mm macro / micro lens on March 22, 2009. Shutter speed was 1/640, aperture f/10, exp -0.33, iso 200. I took this in brightest sunlight, then added texture layers and light beam brushes.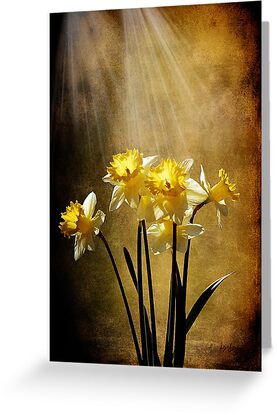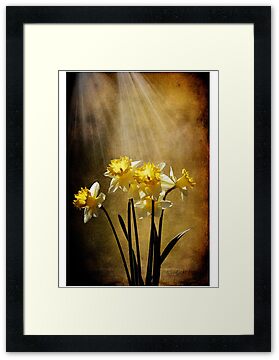 My thanks to Skeletal Mess at Flickr for the textures and to Obsidian Dawn for the sun beam brushes!!!