Featured in BEAUTIFUL GRUNGE ART December 31, 2010.
Featured in Layered With Texture November 29, 2010.
Featured in Vintage Art Storybook October 8, 2010.
Top Ten in the "Birds" challenge in Grunge Photography March 26, 2010.
Featured in # 1 Artists of RedBubble March 24, 2010.
Featured in Inspired Art March 6, 2010.
Featured in Digital Art Compilations March 3, 2010
Best on Full Size
My thanks to Peter Lusby Taylor for the following amazing link entitled Starlings on Otmoor … watch and enjoy if you have the time!!!!
223 visits on 2/23/2010
This image is also available at Lois Bryan at fine art america in an exciting variety of framing and matting options.
This image is a shameless copy (it is the sincerest form of flattery, right???) and an honored homage to The Very Great Jan Piller whose amazing work Having a Lady To Dinner has been such an inspiration to me … and I'm sure to so many others. Jan .. thank you!!!!
During the last snow storm, my birdie feeders were visited by a constellation of starlings. Funny, funny birds. I've added a ladybug to this image as the starling so looked like he was talking to someone (thanks for the idea, Jan!!)
Starling image taken on February 9, 2010 with the Nikon D300 and the 150-500mm OS Sigma lens at 500mm. Shutter 1/500, aperture f/8.0, exp. -0.33, iso 400, spot metering. Ladybug image taken with the Nikon D40x and the 60mm Macro/Micro Nikon lens at shutter speed of 1/15, aperture of f/16.0, exposure .33, iso 200.
Post work in addition to the addition of the ladybug included cloning of a couple of ill-placed twigs, levels, curves and two textures.
Interesting facts about Starlings thanks to What Bird.com
All of the 200 million European Starlings found in North America today are descendants of approximately 100 birds released in New York City's Central Park in the early 1890s by an industrialist who wanted to establish, in the U.S., all birds mentioned in the works of Shakespeare.
They compete aggressively for nesting sites and may evict the occupants of desired holes, including the woodpeckers that excavated them.
An individual bird can mimic up to 20 species, including Eastern Wood Pewee, Killdeer, and Meadowlark songs.
A group of starlings has many collective nouns, including a "constellation", "filth", "murmuration", "scourge", and "vulgarity" of starlings.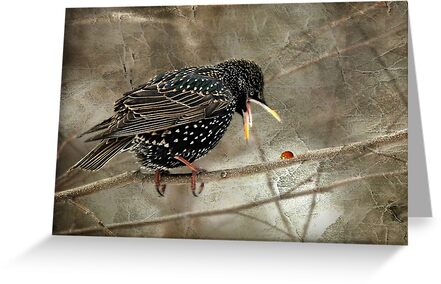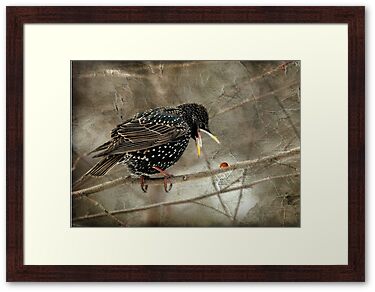 My sincere thanks to CGTextures and Ghostbones of Flickr for the texture images.