Featured in Old Things July 20, 2010.
Top Ten in the "Barns" challenge in Bubbler's Weekly Challenge July 15, 2010.
Featured in Bubbler's Weekly Challenge July 9, 2010.
Top Ten in the "The Colour Is Green" challenge in All In, Editing group March 20, 2010.
Featured in The Red Barn February 28, 2010.
Featured in Welcome Pennsylvania February 7, 2010.
"Spotlight Of The Week" in The Amazing Orton Effect February 5, 2010.
Spotlighted on Home Page of Old Things as an "Oldie But Goodie" by Vickie Emms February 4, 2010.
Featured in Live and Let Live January 27, 2010.
Best on Full Size
This image is also available at Lois Bryan at fine art america in an exciting variety of framing and matting options.
"A Farm-Picture" by Walt Whitman
"THROUGH the ample open door of the peaceful country barn,
A sun-lit pasture field, with cattle and horses feeding;
And haze, and vista, and the far horizon, fading away."
This beautiful old barn can be found at Old Bedford Village in Bedford, Pennsylvania. The structures at Old Bedford Village are authentic to the area, many of which have been transported from their original locations and re-built here …. others have been painstakingly reproduced from originals which were too decrepit to move. While I hope someday to get back to England and Europe and snap away at castles and romantic ruins, I do have a deep and abiding love for the "castles" of our own continent, the family farm. Here's another one!!
I took this image on August 15, 2009 with the Nikon D300 and the 18-200mm vr Nikon lens. Shutter speed was 1/200, aperture f/10.0, exposure -.33, iso 640. Post work included Photomatix 3.1 hdr from 5 images duplicated at +/-2 in Photoshop, a trip to CaptureNX2 for sharpening, a slight Orton, and a texture. Oh, and, of course, the kitchen sink. :))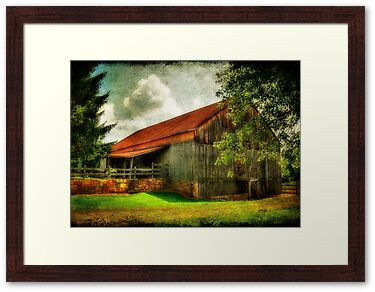 My thanks to Ghostbones on Flickr for the texture.