Featured in Art Universe June 21, 2011.
Featured in #1 Artists of RedBubble February 24, 2011.
Featured in Feelin' Good January 29, 2011.
Featured in All Blends December 16 2010.
Featured in Beautiful Grunge Art December 14, 2010.
Featured in Layered With Texture November 29, 2010.
Featured in Live, Love, Dream December 18, 2009.
Featured in Live and Let Live December 18, 2009.
Best on Full Size
This image is also available at Lois Bryan at fine art america in an exciting variety of framing and matting options.
Just a fun reminder to those of us in the Northern Hemisphere to set seed out for our feathered friends in the coming weeks and months. Winter is very hard on these little guys … I have no idea how anything so tiny and fragile looking can withstand the ferocity of winter's snow and ice and cold … but they do. A little help from us is never a bad thing. Many of the guys who regularly visit me love black oiler sunflower seeds and I always try to make sure my feeders are well stocked.
focal distance 300mm.
This image was taken on March 2, 2009 with the Nikon D40x and the 70-300mm vr Nikon lens, UV filter. Shutter speed was 1/800, aperture f/5.6, exp 0.00, iso 200.
"Please Feed The Birds" was taken at the same time as Tree Treasure … and the two images are very similar. But I loved how in this one my little buddy is looking right at me. Plus I was monkeying around with some new textures and a couple of other techniques and kind of liked the results.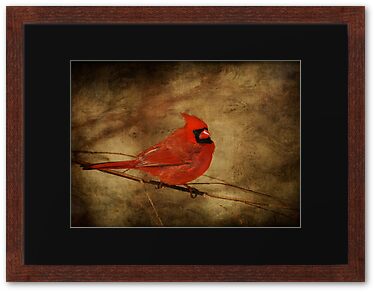 Thanks to "Telzy" at Flickr for the texture.