Featured on RedBubble's HOMEPAGE May 7, 2010.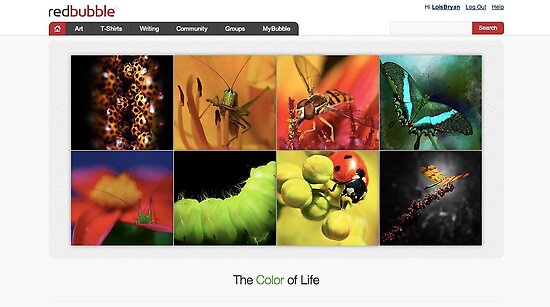 Featured in Top Shelf Wildlife and Nature Art April 13, 2010.
Featured in Light of Love April 11, 2010.
Top Ten in the "Flower Bugs" challenge in Extreme Closeups February 26, 2010.
Featured in Dimensions August 20, 2009.
Best on Full Size
This image is also available at Lois Bryan at fine art america in an exciting variety of framing and matting options.
Having some fun with the macro/micro lens in my garden (Montgomery County, Maryland) the other day, August 3, 2009, I found this darling little critter (thought she was a grasshopper but have been told by wiser heads than mine that she's a catydid) enjoying brunch. Loved the way she munched away on the flower thingie like a cob of hot buttered corn!!!!
Handheld image taken with the Nikon D300 and the 60mm Nikon macro/micro lens. Shutter 1/640, aperture f/13, exp -.33, iso 200. Minor cropping and levels work in Photoshop.