Dr. Ernie Murakami coming to Ottawa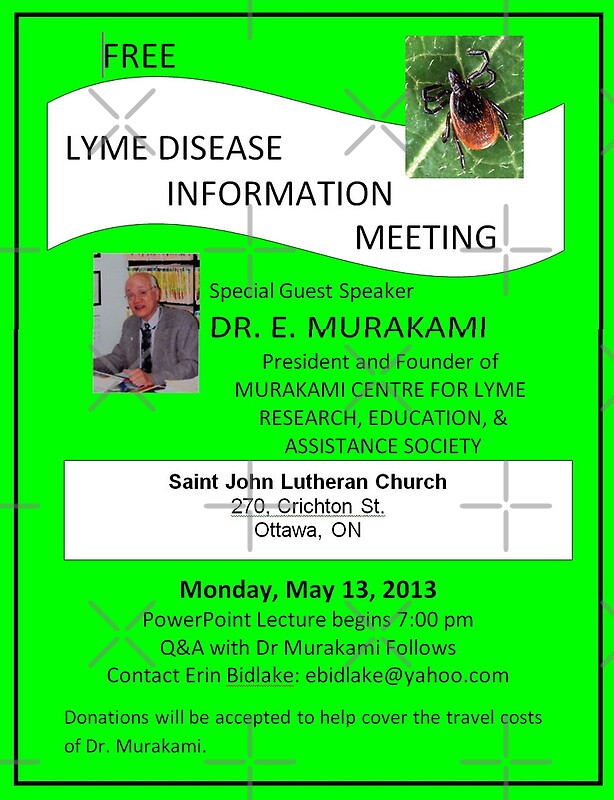 Monday May 13th 2013
at Saint John Luthern Church
270 Crichton Street
Ottawa, Ontario, Canada
Dr. Ernie Murakami will be in Ottawa on May 13th 2013 to talk about Lyme Disease. This is a free event. I urge you all to come. This man is the last of the good kind, a doctor who went above and beyond to help, heal and even cure many of this horrible disease.
PLEASE read this article and please watch this news footage video
http://www.cbc.ca/news/canada/british-columbia/...
Dr. Ernie Murakami is a HERO
doctors all over the world say there is no chronic lyme. But these doctors misdiagnosed all of us, for years. We could have be cured within a month. The only way to regain partial-whole health is long term antibiotics.
I know of hundreds of people with this disease, this year I have encountered 3 people from Ontario who were on long term oral antibiotics for 3 years and now they have most of their life back.
PLEASE if you live in this area, come to this event and hear what Dr. Ernie Murakami has to say