What is the most abundant songbird in North America? Next time you're driving around town, compare the number of House Sparrows you see to the number of our native songbirds you see. There are estimates that there are twice as many sparrows across the country as all other native songbirds combined — a really sad statistic considering the house sparrow is not even a native bird of North America.
The House Sparrow, actually the Weaver Finch, which is the subject of all the "sparrow controversy," should not be confused with any of our numerous native sparrows such as the Grasshopper Sparrow, Chipping Sparrow, Song Sparrow, etc. In fact, the House Sparrow and the Eurasian Tree Sparrow, are the only non-native sparrows in North America. So, for the sake of clarity, whenever I refer to the general term "sparrow," I am referring solely to the non-native House Sparrow.
"Closely connected with the Greek tale is the Servian story of the dragon whose "strength" (snaga_) lies in a sparrow, which is inside a dove, inside a hare, inside a boar, inside a dragon (_ajdaya) which is in a lake, near a royal city. " — Russian Fairy Tales A Choice Collection of Muscovite Folk-lore
He is tired of the wet and chilly weather. It is supposed to be Spring… We are both starting to get a seasonally affected disorder. Not good. I need the nice weather to begin and last more than a day… That's all folks.. Shot taken in Ct. during the Month of April. Just a Spring Rains begin here in the North East.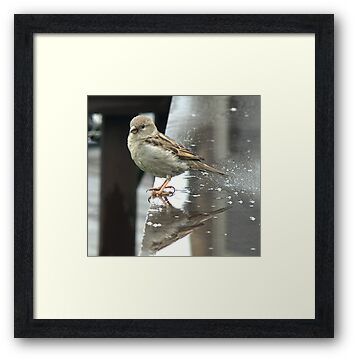 For more interesting Sparrow facts click :Here":http://audubon-omaha.org/bbbox/ban/hsbyse.htm