BEST VIEWED IN LARGER VERSION!!!
4 group features as of….05/08/2012
Dedicated to all you day dreamers out there.. and layering artists, whom constantly keep me inspired. My first photo layer project…♥♥
2 of my photos layered together using pse 8..
Have you ever just sat and stared into a puddle or the river water and day dreamed of places you wish to see or of places you have already been?
That is what this creation is about..♥♥♥
A vision or dream of my grandparents Victorian home in a puddle that I was gazing into as I sat on a moss covered log in the forest, one autumn afternoon.
Wonderful memories of running and playing and dodging the clothes line filled with freshly washed sheets and white shirts…
Tea parties on a blanket with my sisters, and laying on our backs to talk about all the animal shapes we saw in the clouds.
Grandma coming out and sitting in her rocker on the back porch and sipping lemonade as she sewed a button on grandpa's Sunday going to Church shirt.
Humming an old tune.. and watching my sisters and I run around the yard playing tag, and ring around the Rosie,, and hide and seek.
And I remembered helping her wash those windows on that grand porch in early spring.. with smelly vinegar and newspapers… but they were the cleanest windows I had ever seen… they just sparkled in the sun light.
And then there were those summer nights we girls got to sleep out on that porch with a folded wool blanket for a mattress on the floor, a feather pillow and fresh washed white sheets straight from the clothes line.. ahhhhhhhhhhhhhhhh!
To wake all refreshed the next morning to grandma's call to breakfast of fresh cow's milk , biscuits with apple jelly, ham and eggs.
So my visit to the forest and enjoying a puddle filled with last seasons leaves, gave me more reflections than I ever could have imagined and I hated to leave. But there is always another day to daydream!
image and write by linmarie♥04/27/2012
"FEATURED IN"
04/28/2012
"FEATURED IN"
04/28/2012
"FEATURED IN"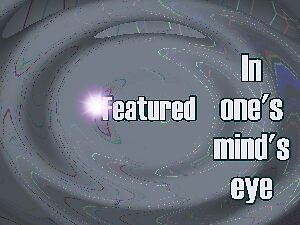 05/01/2012
"FEATURED IN"
05/08/2012