BEST VIEWED IN LARGER VERSION!!
4 group features…
more of my scanner art, playing around with objects in my possession..
this piece consisted of my grandmothers pearls, an antique blouse with lace cut outs, and a feather my husband brought home to me from a hunting trip.. the story goes like this…………….just my version of how it was,, in times of the old western days.. 1800's..sit back now and read……….♥
His intentions were honorable…
She danced with him only once..
His eyes of steal blue stole her heart…
He presented too her a feather next day..
At a picnic in the Church yard..
She giggled with glee and nervous anticipation…
Would he kiss her and let his heart show…
Or would he be a mysterious boy..
This second meeting in front of family and foe…
He gently embraced her and whispered..
You are sweet… while gazing at her young breasts..
Covered in her mothers best lace slip..
He says, "You shall be my bride by next week, I promise"..
Nights turned into days, days into nights..
No word or sight of her love, who left town in a hurry..
Just whispers from others, as she walked under street lights…
No one asking, no one embracing her heart break plight..
A request came from the Sheriff as of soon..
Needed her to come away it said, from the Saloon..
Your gentleman left this with me,,just in case..
He did not come back to you, with God's Grace..
He is no longer here my sweet gal..
But his mothers Pearls he is handing down..
To the one love, he had the honor of…
Dancing with like a feather one eve…
Under the light of the moon!
Be at peace in knowing, he was a good man…
Not wanted for any crime…
If anything he was a hero.. a son of a gun…
Who never got a chance to embrace true love..
This I say.. the Sheriff said..my shoulder you may place..
Your weary and sorrowful head………..I will try to take his place…
Image and poem created by linmarie..11/09/2011
with a scanner and a story in my heart♥
"Feather and pearls and a broken heart"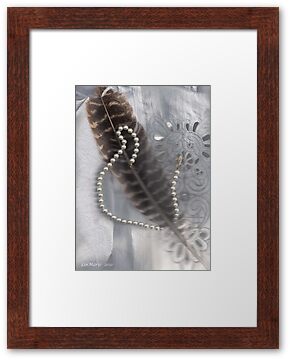 "FEATURED IN"
11/10/2011
"FEATURED IN"
12/02/2011
"FEATURED IN"
12/15/2011
"FEATURED IN"
04/19/2012