BEST VIEWED IN LARGER VERSION!!
I so remember my grandmother having a couple of these in her china closet, and as a young girl… I was in awe, of the detail, the jewels, the carving out of an egg, how could someone be so patient and talented.
This is one of my many childhood memories of admiring art I did not even realize was so deep in history, I just loved the delicate beauty..
So again because it is Easter time in our home, which we celebrate in Church and the traditional fun with our children and grandchildren, I decided to create another egg,, one from a childhood memory.. a word that never left my lips once my grandmother phonetically got me to say it right..
♥♥♥Faberge'♥♥♥
how beautiful a word… the art of decorating eggs with jewels..
this was created with one of my photos of a young maple tree struggling too survive in rocks along the rivers edge.. altered in color with photoshop elements 2 and light altered to create the egg shape.. Happy Easter again to all my friends who love hunting for eggs with their little ones.. 2011
"egg"

"egg"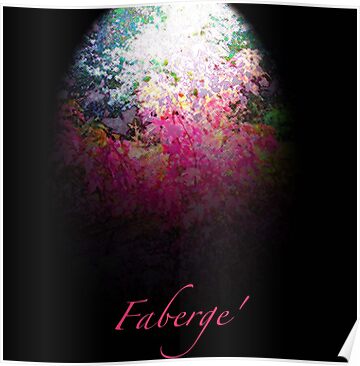 "INSPIRATION PHOTO"
♥♥♥♥♥♥♥♥♥♥♥♥♥♥♥♥♥♥♥♥♥♥♥♥♥♥♥♥♥♥♥♥♥♥
A Fabergé egg (Russian: Яйца Фаберже; Yaĭtsa Faberzhe) is any one of the thousands of jeweled eggs made by the House of Fabergé from 1885 through 1917. The majority of these were miniature ones that were popular gifts at Eastertide. They would be worn on a neck chain either singly or in groups.
The most famous eggs produced by the House were the larger ones made for Alexander III and Nicholas II of Russia. Of the 50 made, 42 have survived. A further two eggs were planned but not delivered, the Constellation and Karelian Birch eggs for 1918, as Nicholas II and his family were assassinated that year, and Nicholas had abdicated the crown the year before.
Seven large eggs were made for the Kelch family of Moscow.
The eggs are made of precious metals or hard stones decorated with combinations of enamel and gem stones. The term "Fabergé egg" has become a synonym of luxury and the eggs are regarded as masterpieces of the jeweller's art.