Dear daughter who sits by my side
Listening to my guitar sing
Sharing the words of the songs
Singing along like it is nothing.
It is memories like this that cause me to partake
In creating new memories for your sake
I will not be here forever you know
But I leave you this imprint in words and song.
BETTER VIEWED IN LARGER VERSION!
photo of myself and my daughter 1999-notice the heart on my cheek,, it is for her!
Graduation party for her in our backyard filled with family and friends,, I broke out my guitar at her request and sang songs she grew up with.
altered with foto flexer too painting effect,chose to put in moss green and sunset coral,, our favorite colors of mother nature.
This is in honor of my daughter going back to college at 30yrs. old to obtain her LPN degree, a mom with 3 children,, she is following in my life path,, and I am happy she is going for the gusto!
Canton, NY- foothills of the Adirondacks.
xxxxxxxooooooxxxxxxxxooooooxxxxxxooooooxxxx
30% of all sales of this pic, will go too the Relay for life Cancer Walk,, which I am active in,, cannot walk it anymore but do my part at the stands etc..
"love"

"love"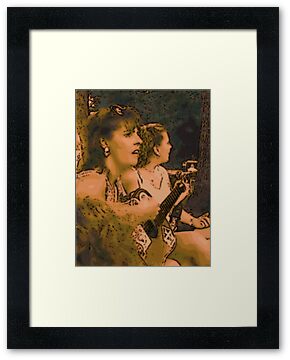 "FEATURED"

02/03/2010
Featured in Sisters in Arms group-04/02/2010