BEST VIEWED IN LARGER VERSION!!
Ice is where we all will be
If not excepting of handshakes
Words of love and peace.
Virus's we need not fear
It's human emotion, that look,that leer
The hardened heart that is closed
Non Excepting of a warm kind word.
Global warming, ha,, you jest
There inside of each of us
A heart lies in our breast
Open up your arms, you might just bust.
Warmth it will give you
Melt away the ice
Makes the world around you
Warmer,, ahhh,, isn't that nice.
So heat up your teapot
Drink a cup with me
Ice Age will never happen
In my life, wait and see.
Poem written by linmarie/12/17/09
Inspired by the unfriendly email I received from a fellow artist, whom asked me if I would not end my comments with peace and love linmarie ,, on their art…
Their site was professional, needless to say they are no longer on my watchlist, nor I on theirs.. so sad, so full of ice in their veins..
You can read about this situation in my journals title, I am sorry, meant no offense.
painted on embossed wall paper scrap, 2008 watercolors and acrylics, paint brushes were used, but mostly my fingers too create textures while paint was wet, this measures 14"x 22"
original was donated for a polar bear dip event in 2009 for fund raiser for our local Fire Dept….. soft mauve and sea green, white and hints of black for drama in the sky.
"ice"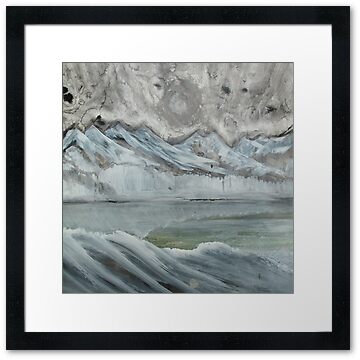 "ice"

XXXXXXXXXXXXXXXXXXXXXXXXXXXXXXXX
183 views as of 08/03/2011
2 SALES
20 comments
4 faves
XXXXXXXXXXXXXXXXXXXXXXXXXXXXXXXX